Handling the COVID-19 Pandemic in the European Armed Forces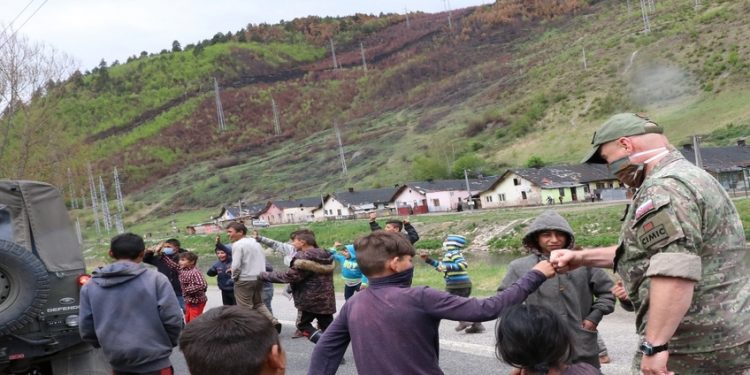 Hardly anyone would have believed one year ago that today, in early 2021, we are still dealing with a virus that is difficult to control despite the continued global efforts to contain it. The virus and the accompanying pandemic have been regulating or disrupting our society and everyone's individual life for almost a year now.
This was also the case for our armed forces for whom COVID-19 nevertheless created new challenges. Since the beginning of this unprecedent health crisis, EUROMIL has been closely monitoring the role of European armed forces in fighting the virus and the overall support they provided to civilian authorities and the population. As soon as it became clear that this health crisis would be more than a short-lived phenomenon in our history, EUROMIL took the initiative to provide information related to COVID-19 and the deployment of the armed forces from its member associations as well as from international institutions. This information is publicly available on EUROMIL's website. In addition, various online discussions were held internally and in collaboration with DCAF and OSCE-ODIHR, among others, about the right to health for armed forces personnel.
In almost all European countries, armed forces and their members provided logistical and medical support to the authorities. They were tasked to transport medical supplies, set up field hospitals, distribute personal protective equipment and provide medical equipment and staff. Additionally, in some countries military personnel were requested to enforce lockdown measures or had other tasks such as disinfecting public places, conducting testing, or transporting dead bodies.
During the first wave of the COVID-19 pandemic in particular, members of the armed forces faced specific challenges, including shortages of protective equipment and medical teams, a lack of health-related data, long working hours and absence of work-life balance, no compensation and recognition of COVID-19 as an occupational disease, cancellation of trainings affecting preparedness, no training or preparation for the requested tasks, human rights infringements and lack of social dialogue. Mental pressure was particularly high in this context.
EUROMIL and its member associations acknowledge that in times of crisis, armed forces and their members must be engaged in supporting the population. However, they call for protection of those who protect! While some European armed forces are no longer formally engaged in the fight against COVID-19, others are continuing to provide support to civilian authorities and their personnel do nonetheless not receive appropriate care or support. This has a negative impact on both their moral and motivation which consequently affects operational readiness. EUROMIL recalls that the military cannot function without its human capital and insists that taking all measures to protect and support the defence personnel is vital for our collective security. Relevant care will impact motivation and readiness if soldiers are aware that they and their family will be taken good care of.
EUROMIL believes it is high time to draw clear lessons from the COVID-19 pandemic, with the view of making improvements to the armed forces and get prepared not only for its subsequent waves but also for future pandemics. Therefore, the organisation calls on political and military authorities to respect their duty of care towards military personnel while at the same time ensuring the good functioning of their armed forces in times of crisis and beyond. Without wanting to interfere with the operationality of our armed forces or criticise any recently deployed strategy, EUROMIL recently launched a call for the protection of European troops on assignment abroad. More than in any other context, it is clear in this regard that an international approach to, among other things, a vaccination strategy is not only justified, but a moral obligation on the part of the international community under whose flag soldiers are deployed.
A virus knows no borders, no language, no nationality, race or skin colour. The challenge is global and concerns every one of us. We, as members of the armed forces, must therefore tackle this in a coordinated way. A pandemic without borders cannot be overcome with an approach within your own borders! By the way, this is the aim of EUROMIL, both in this crisis and in other situations, to collaborate and share experiences.
Emmanuel Jacob, President EUROMIL