Armed Forces and COVID-19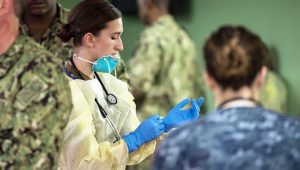 Globally, the COVID-19 pandemic created new challenges, including for the armed forces. Since the beginning of this unprecedent health crisis, EUROMIL has been closely monitoring the role of European armed forces in fighting the virus and the overall support they provided to civilian authorities and the population. In almost all countries, armed forces and their members provided logistical and medical support to the authorities. Among others, they were tasked to transport medical supplies, set up field hospitals, distribute personal protective equipment and provide medical equipment and staff. Additionally, in some countries military personnel were requested to enforce lockdown measures or had other tasks such as disinfecting public places, conducting testing, or transporting dead bodies.
Country profiles
In this section, you will find more information about how armed forces are dealing with COVID-19 in European countries.
International organisations
Trade Unions and Civil Society Organisations