Picking the Right Momentum in EU Decision-Making!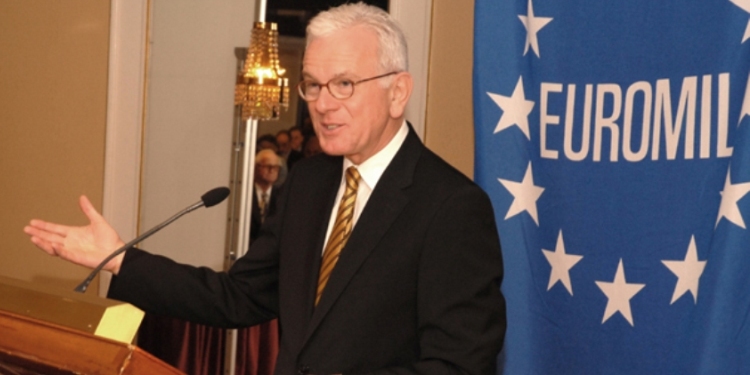 One of the main points of criticism on the European Union and its decision-making process, is that it is slow and that it takes a lot of time before the results are visible. Yes, but … even more than in national politics, EU decision-making depends on reaching a consensus – not only between political families, but also between member states – and very often it is about picking the right momentum.
This can be made clear with a topic that anno 2018 – 2019 is high on our agenda, namely the Permanent Structured Cooperation, better known as PESCO. Drawing the history of European security and defence would take us of course to far. Let's go back to the Lisbon Treaty which has been signed on 13 December 2007 and entered into force on 1 January 2009.
In the section on provisions on the common security and defence policy, one can find article 42.6. This article reads as follows: "Those Member States whose military capabilities fulfil higher criteria and which have made more binding commitments to one another in this area with a view to the most demanding missions shall establish permanent structured cooperation within the Union framework. Such cooperation shall be governed by Article 46." Article 46 describes the procedure to initiate PESCO from the notification to the final launch.
In other words, the possibility of PESCO has already been signed by the member states in December 2007 and entered into force on 1 January 2009. However, this remained a mere possibility and nobody used the opportunity to launch PESCO for many years. Let's now go back to 13 November 2008, when EUROMIL held its 3rd Congress in Brussels. At the opening of the Congress, EUROMIL welcomed high-ranking dignitaries from NATO, the EU, the European Trade Union Confederation and the host nation Belgium. One of them, Dr Hans-Gert Pöttering (Germany), at that time President of the European Parliament, suggested in his opening speech (see picture) an intermediary stage between the autonomous national armed forces and "the distant objective of a European Army". Mr Pöttering called it SAFE, Synchronised Armed Forces Europe, based on an opt-in solution where member states could voluntarily create joint capabilities. Mr Pöttering stated that only if the levels of training, rules of engagement and degrees of operational freedom are comparable, European soldiers will be able to rely on one another fully. He therefore proposed a common statute that addresses issues such as duties and rights, rules of engagement and social standards, as well as equipment quality, medical care and social security arrangements in the event of injury, incapacity or death.
A few weeks later, Hans-Gert Pöttering, introduced the SAFE project at the 7th Berlin Security Conference. The idea to bring cooperation of national armed forces towards a closer synchronisation under the acronym SAFE, was picked up by the at that time chairman of the subcommittee Security and Defence of the European Parliament, Mr Karl van Wogau. He introduced SAFE in his European Security Strategy and ESDP report, which has been adopted by a large majority in the plenary of the European Parliament on 19 February 2009. Hereby, SAFE became a part of the European Parliament's resolution and was discussed later not only by the EU but also by NATO. Unfortunately, SAFE slowly disappeared from the agenda. Was it because the promotors were no longer present to lead the debate or was it simply because the momentum was not there?
But things changed and almost ten year later, security and defence and everything related to it, came in a never seen rapid acceleration. As of 2017 a range of new projects came on the table and were decided upon and in a few months' time the "sleeping beauty of the Lisbon Treaty" (European Commission's President Juncker called PESCO like this in June 2017) was implemented. 25 Member States agreed to step up the European Union's work in the area of security and defence and acknowledged that enhanced coordination, increased investment in defence and cooperation in developing defence capabilities are key requirements to achieve it. After a first list of 17 projects, the Council adopted in November 2018 a second list of 17 projects. The projects cover areas such as training, capability development and operational readiness on land, at sea and in the air, as well as cyber-defence.
Even if at this point, the number of projects linked to the human and social factor of security and defence are limited – the European Medical Command (EMC) excepted – we see PESCO as a partial revival of SAFE. SAFE may be dead and buried as such, but its ideas and principles to further develop "cooperation between national armed forces so that they become increasingly synchronised", are more than ever alive. Just like SAFE, PESCO is an opt-in model based on more voluntary synchronisation and "the principle of a Europe-wide division of labour in military capabilities" (quotes from European Parliament resolution of 19 February 2009 on the European Security Strategy and ESDP (2008/2202(INI)).
PESCO is the result of using the momentum, an element which was missing when SAFE was introduced, and so will the introduction of social-human projects be the result of a momentum. The momentum when military and political leaders get convinced that security has a social dimension!
That's what it is all about, picking the right moment! In European political decision-making things may go slow, but when the right momentum is there … one has to use the opportunity!
Emmanuel Jacob, President