DBwV Participates at Berlin Security Conference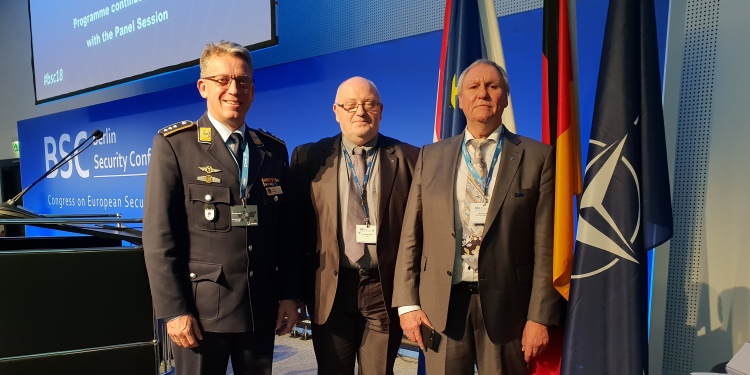 Abstract – Deputy chairman of the DBwV Hauptmann Andreas Steinmetz and Karl-Heinz Bög, member of the DBwV working group "Europe" participated at the Berlin Security Conference. The Conference took place in Berlin and dealt foremost with the topic of European integration concerning the foreign and security policy. For the DBwV it is important to remain updated in matters of European policies to secure an adequate representation of their member's interests.
The original article is available hereunder and here. For more information, please contact the DBwV.
Berlin diskutiert die Weltlage – und der DBwV ist natürlich dabei!
Berlin. Der Soldatenberuf ist kein Beruf wie jeder andere. Das wird in diesen Tagen erneut besonders deutlich. Angesichts der neusten Eskalation im Ukraine-Krieg beraten Nato und EU das weitere Vorgehen. Selbst die moskaufreundliche Wiener Regierung brachte – zumindest als aktuelle EU-Ratspräsidentin – eine Verschärfung der EU-Sanktionen gegen Russland ins Spiel. Für Diskussionen sorgte gestern die Forderung des ukrainischen Botschafters, Andrij Melnyk, die deutsche Marine möge bitte mit Kriegsschiffen im Schwarzen und Asow'schen Meer verstärkt patrouillieren.  Droht der Bundeswehr also nunmehr eine direkte Konfrontation mit Russland?
Danach sieht es nicht aus. Die Bundesregierung möchte, wie bereits in der Vergangenheit, im Normandie-Format, dem neben Deutschland und Frankreich die Ukraine und Russland angehören, eine Lösung finden: "[Wir] müssen alles für eine Deeskalation tun, um zu verhindern, dass aus diesem Konflikt eine noch schwerere Krise für die Sicherheit in Europa wird", sagte Bundesaußenminister Heiko Maas (SPD) auf dem Berliner Forum Außenpolitik der Körber Stiftung, zu dem auch der Bundesvorsitzende, Oberstleutnant André Wüstner, eingeladen war.
Russland war sodann auch Thema auf der Berliner Sicherheitskonferenz, an der der stellvertretende Bundesvorsitzende, Hauptmann Andreas Steinmetz, teilgenommen hat. Verteidigungsministerin Ursula von der Leyen (CDU) rief ebenfalls beide Seiten zur Deeskalieren auf, blieb in der Sache aber hart: "Ja, Europa ist immer wieder bereit, Russland die Hand zu reichen, aber das erfordert ein Russland, das sich zu Regeln und Werten bekennt und nach diesen handelt."
Der Bundesvorsitzende und sein Stellvertreter waren erwartungsgemäß gefragte Gesprächspartner, wissen sie doch aus erster Hand, wie die Lage in der Truppe wirklich ist. Umgekehrt ist es für de DBwV unerlässlich, sich in die sicherheits- und verteidigungspolitische Debatte einzubringen. Denn allzu oft fehlt darin – leider – militärischer Sachverstand. Am Ende jedoch sind es die Soldatinnen und Soldaten, die für politische Projekte in Einsätze geschickt werden.