EUROMIL Board Meets in Lisbon and Portuguese Associations Debate Trade Union Rights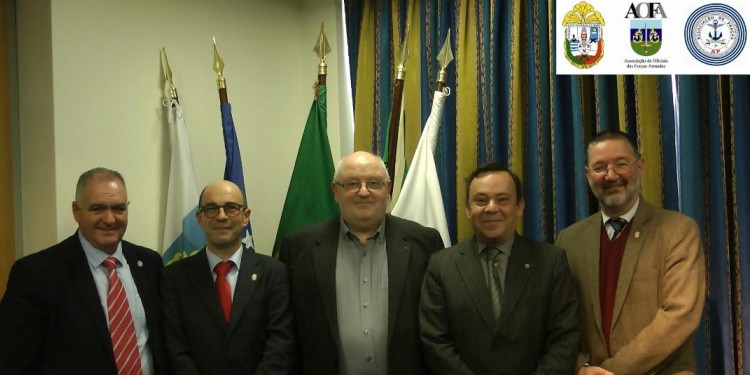 Abstract – In the middle of the four-year term, the Board of EUROMIL, held an extraordinary meeting in Lisbon on 21 February to review the past two years and to prospect the two years period until the Congress, scheduled for October 2020, when elections will take place for the next four years mandate.
The demands that are increasingly being placed on the European military, the diversity of socio-occupational matters that need to be carefully and promptly monitored, together with the numerous requests made to EUROMIL by numerous European agencies, partners and different entities, require a reflection thorough and exhaustive study of the work and the way forward in the future of this representative European organisation of the military.
Portuguese associations debate "Reality of Military Trade Unionism in Europe!" 
Taking advantage of the fact that the nine EUROMIL Board members were in Lisbon, the professional military associations of Portugal (ANS, AOFA and AP), all of them full members of EUROMIL, decided to hold a session/debate under the theme "The Reality of Military Trade Unionism in Europe". This event, to which various institutional, political and military entities were invited, took place between 10h00 and 13h00 on 22 February 2019. Counting among the guests with members of political parties with parliamentary representation, judges, lawyers, trade unionists and military of the three branches and of all the posts, the debate was very participated. The issue of trade union rights, the legal representation capacity of members and effective participation in collective bargaining were addressed. Of great importance was the testimony given by EUROMIL's associative and trade union Board members about their experiences and realities in their respective countries, particularly the testimony of Johan Öhlén of Sweden, Tom McCarthy of Ireland and Jörg Greiffendorf of Germany. Members of the panel, moderated by António Lima Coelho, member of the Board of EUROMIL, were Mário Ramos, President of ANS, who opened and closed the proceedings, António Mota, President of AOFA, Luís Reis, President of AP and Emmanuel Jacob, President of EUROMIL, who was responsible for making the substantive intervention that sustained the debate. The importance of the EUROMIL's work and intervention in the different realities and concepts that existed throughout Europe was evident. This was undoubtedly an important step in the construction of trade union rights, recognised by the European Commission on Social Rights in a decision handed down in February 2018, for all European armed forces, which of course also include the Portuguese military.
For more information, please contact ANS.
Picture: Paulo Pereira