7th Belgrade Security Forum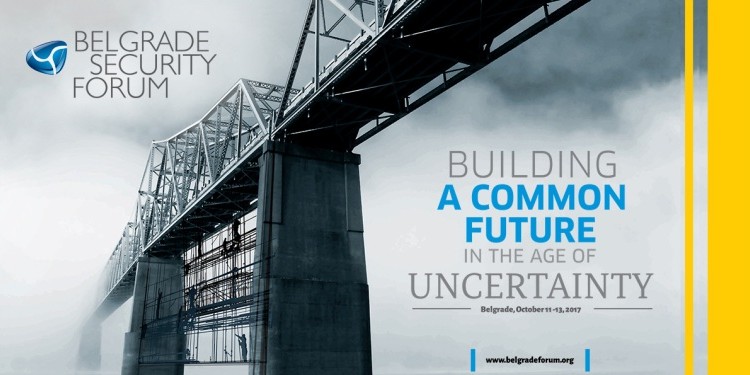 The 7th Belgrade Security Forum (BSF) entitled "Building a Common Future in the Age of Uncertainty" was organised on 11 – 13 October 2017 by the Belgrade Fund for Political Excellence, the European Movement in Serbia and the Belgrade Centre for Security Policy in collaboration with several partners.
"The world has been experiencing an ever deepening and intensifying division in 2017. The tensions in North East Asia have, with participation of superpowers such as the US and China, raised alarming concerns of a conflict with global consequences. The resolution of ongoing conflicts in Ukraine and Syria has been slowed down due to a continues contention between the political West and Russia. Among Western partners, a new rift appeared after president Trump announced a possible withdraw of the US from the Paris Climate Accord, endangering the credibility of multilateral efforts to decrease global warming. In the shadow of celebrations of the 60th anniversary of the Treaty of Rome, the gap between old and new members of the EU continued over the redistribution of refugees and respect of the rule of law. At the same time, the discussion on the future of Europe concentrated around the scenario of a multi-speed and multi-tier Europe that might institutionalise existing divisions and create new cores and peripheries. This year also saw the greatest number of bilateral incidents and harsh rhetorical exchanges in the region of the Western Balkans after the 1990s, renewing concerns over potential conflicts among Balkan states. On the national level, the response of many political leaders was politics of fear." (quote from the Forum's brochure)
During three days of plenary panels and simultaneously organised smaller sessions, several topics were discussed, such as the EU as a global crisis manager, migration, populism, the Berlin Process, economic and social inequalities, the NATO – Serbia partnership and Western Balkan security.
EUROMIL's President, Emmanuel Jacob, participated at some of these panels and sessions. A more detailed report can be found on the BSF homepage.