Elections and new Board for AUME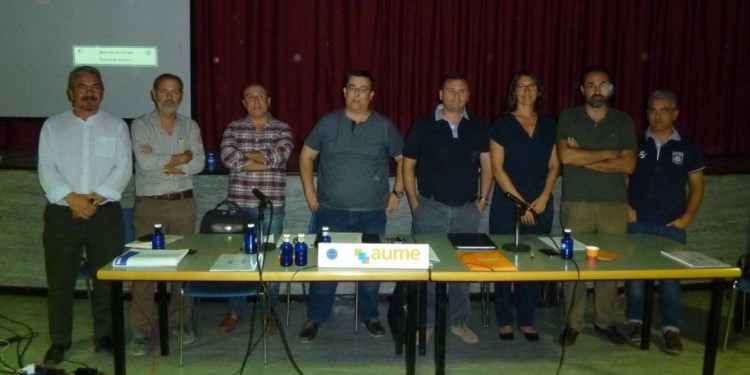 AUME has approved, in the last assembly performed on 7 October 2017 in Madrid, a new Board that will assume along the next four years the command of the AUME´s ship. This new Board has been named according with his elections charters and rules of the AUME´s statute book.
The most relevant subject about this new Board elected is the shift taken by Jorge Bravo, who has been the Secretary General of AUME in the last 13 years, and Ignacio Unibaso who will assume now the rule in the next four years. Ignacio has been the Secretary of Organization (vice-president) the last Board period, working side by side with Jorge and assuming his responsibilities along the absence periods.
Jorge has decided to take a step back as the new vice-president (Secretary of Organization), because of knowing that the law of rights and duties of the militaries in Spain says, that the personnel in the reserve status cannot be active member in official structure of an association, therefore he should abandoned the Board of AUME at 58 years old, which means in six months.
Otherwise the new Board members are Rafael Cabañas and Fidel Gomez, both are active members that were intensively working in the Council of personnel of the armed forces and in the Board of EUROMIL respectively, and therefore they perfectly know AUME's structure, common values and main strategic ideas.
This most natural shift will guarantee that the vectors of power built by AUME along the last few years will be maintained with the new board composed by:
Iñaki Unibaso as the Secretary General
Jorge Bravo as the Secretary of Organization
Oscar Tordesillas as the Treasurer and International Affairs Officer
Teresa Franco as AUME´s Secretary of women
Jose Luis Rugeros as AUME´s Secretary of enlisted personnel
Rafael Cabañas as member of the Board and COPERFAS member
Fidel Gomez as member of the Board and International Affairs Officer collaborator
This new Board of AUME will face this new period of four years with enthusiasm and high amount of expectations in order to fulfil the main issues concerning the dignity of the Spanish military personnel and their families, but being aware that the problems are many and difficult to tackle.
We want to say thanks to EUROMIL and all the associations members for giving us a place of this big project of citizens in uniform in Europe.
For more information, please contact AUME.