50 Years Of UN Covenants On Human Rights – Conference In Lisbon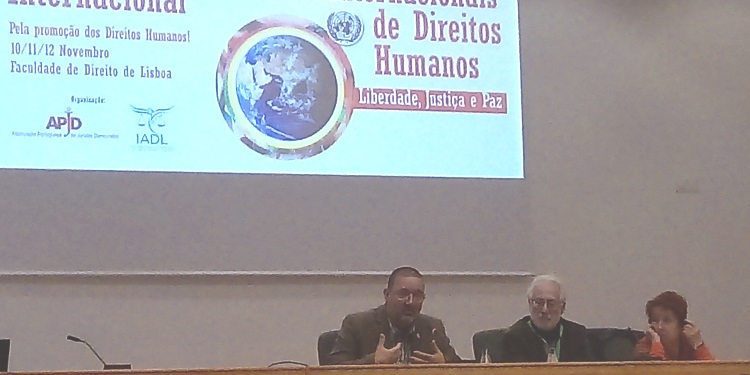 The Portuguese Association of Democratic Jurists (APJD) together with the International Association of Democratic Lawyers (IADL) organised an international conference from 10 until 12 November 2016, at the University of Law of Lisbon, commemorating the 50th anniversary of the two International Covenants on Human Rights (International Covenant on Civil and Political Rights and International Covenant on Economic, Social and Cultural Rights) adopted by the UN on 16 December 1966.
The APDJ, aware of the important role played by ANS precisely in the field of respect for human rights and the fight to get the same rights to Portuguese soldiers recognized, has honored ANS with an invitation to be present and invited to intervene the Director of the newspaper "O Sargento", Antonio Lima Coelho.
The Conference was attended by judges, lawyers and other representatives of different organisations from countries such as Angola, Austria, Azerbaijan, Bangladesh, Belgium, Bulgaria, Canada, Colombia, Democratic Republic of Congo, Egypt, France, Greece, Haiti, India, Yemen, Japan, Morocco, Nepal, Palestine, Pakistan, UK, Philippines, Portugal, Russia, Senegal, South Africa, Spain, Switzerland, Togo, Turkey, Ukraine, United States, Vietnam and Western Sahara.
In his speech, entitled "Human rights cannot stay outside the barrack gates!", Antonio Lima Coelho started by historically framing the Covenants that were marking the 50th anniversary and relating them with the entry into force of the Portuguese Constitution, in April 1976, two years after the 25th April 1974 Revolution. He referred to his military condition and the awareness of that condition with the restrictions constitutionally foreseen, which may not, however, be confused with prohibitions. In this regard, he mentioned the need to implement all perspectives of the laws in force, and in particular, the laws that recognize the right to professional association for the military. He stressed the importance withdrawing the absurd "duty of politic exemption" from the Military Professional Status (recently changed)!
Furthermore, he emphasized the need to include soldiers who play roles in military professional associations to a form of social dialogue, enabling them to actively participate in the construction of the legislation that applies to them. In short, Antonio Lima Coelho defended the idea that military personnel can better defend human rights in missions abroad, when they are enjoying to basic human rights at home. To make this possible and achievable, "human rights cannot stay outside the barrack gates"!
The full speech of Antonio Lima Coelho is available here. For more information please contact ANS.