Belgian Military Trade Unions Demonstrate Against Raise Of Pension Age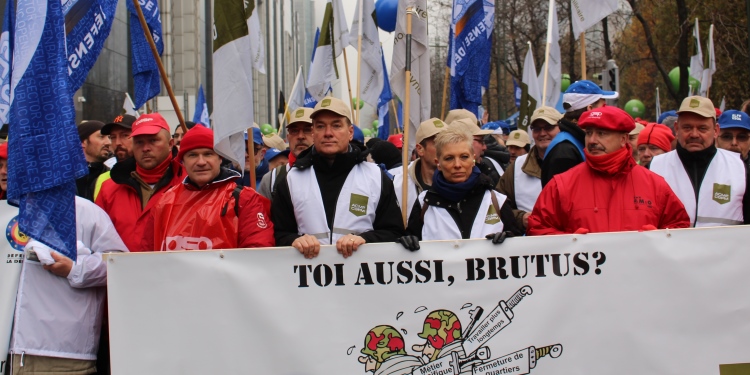 In mid-October 2016, the Belgian government abolished the current pension system of military personnel without consultations. The new system foresees a raise of retirement age from currently 56 to 63 years by 2030, and eventually to 67 years. The impact for military personnel would be disastrous, especially because of blocked promotion opportunities, compromised recruitment and a general aging of the military force. Furthermore, the originally planned "strategic vision" of the Belgian Ministry of Defence becomes unenforceable and the defense budget will be pulled out of balance.
For these reasons, a military demonstration was co-organised by ACMP-CGPM and other Belgian Trade Unions on 15 November 2016, the Day of the dynasty (a public holiday for soldiers precisely because the King is the 'ceremonial supreme commander "of the Belgian Army).
More than 9,000 soldiers participated in the demonstration with a clear message: "we do not want a brutal extension of the career!"
ACMP-CGPM and their partners demanded respect for the daily deployment of military personnel. They expect the government and the defense minister to commit themselves to:
– A proper recognition of the very specific nature of the military profession.
– Specific measures to be taken within the department on a structural basis, giving the chance of a feasible military career and a sustainable transformation to everyone.
The Minister of Defence already made clear that he wants to give the military personnel a future they deserve. He will meet the Minister for Pensions on Monday, 21 November 2016 to discuss the start of consultation still this year.
ACMP-CGPM regards this manifestation as a strong signal, but the work is not finished. The union remains committed to fight in the coming days, weeks and months for the respect the military personnel.
The original press releases in Dutch and in French are available here. For more information please contact ACMP-CGPM.