We Have a Problem – But We Can Be Part of the Solution!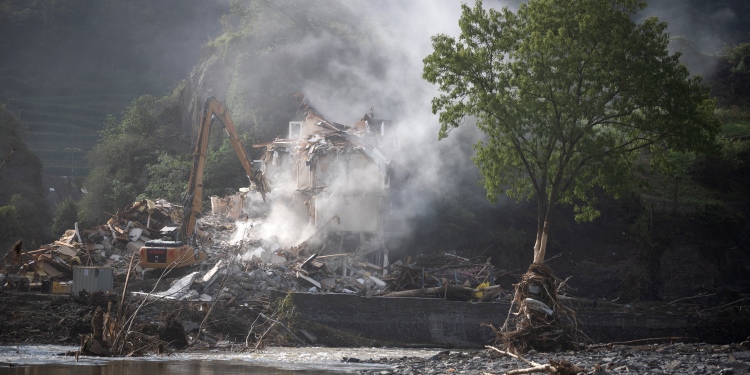 Photo: DBwV
In recent weeks, several European countries and regions have been wrecked by apocalyptic floods and forest fires. Once again, we are painfully confronted with the destructive effects of climate change. There is no longer any doubt that these situations will occur more and more often. In 2019, the European Parliament already declared a "climate and environmental emergency" and in 2020, EU leaders pledged to reduce greenhouse gas emissions by 55 percent by the end of this decade. The time has come to turn these promises into policies in order to combat the disastrous impact of the climate crisis together.
In July 2021, the European Commission published a dozen proposals to ensure that its climate and energy laws are in line with its ambition of a 55 percent reduction in emissions by 2030, compared to the level of emissions in 1990. From the phasing out of the internal combustion engine to forest protection, no sector of the EU economy will remain untouched. The European Union's target is more aggressive than that of the United States, which has committed itself to reducing emissions by 40 to 43 percent over the same period, but is less ambitious than Britain's, who promised a 68 percent reduction. China, on the other hand, the world's largest emitter, is only planning for a in emissions by 2030 before it begins to see a reduction.
In the coming months, draft legislation will be submitted and (hopefully) approved by EU ministers and members of parliament in an accelerated process that they wish to conclude in 2022. One can expect parties from both inside and outside of the EU to try to weaken some of the more vigorous measures. Most large companies may have endorsed the EU's target of net zero emissions by 2050, but it becomes more complicated if that means taking action in the next decade. An analysis of 216 large companies found that only 36 percent supported the goal of reducing emissions by 55 percent by 2030.
Although the focus is largely on global corporations, the defense sector and its armed forces can and must play a role in achieving these objectives. On EUROMIL's website one can read the Conflict and Environment Observatory's (CEOBS) article from 16 June 2021, "The military's contribution to climate change," providing an analysis as to how military activities contribute to Greenhouse gas (GHG) emissions. Energy use at military bases and fuel use from the operation of military equipment, such as aircraft, naval vessels and land vehicles, are often perceived as the main contributors to military GHG emissions. Furthermore, arms production and the military supply chain contribute highly to GHG emissions. In the EU, companies are legally obliged to provide non-financial reporting, which includes information on their GHG emissions. However, the current guidelines on communicating climate-related information are non-binding. Hence, the issue remains that military emissions reporting is optional at an international level and thus incomplete. Overall, the article highlights the need for greater transparency and more robust reporting so that emissions can be managed and reduced.
But climate change will also affect the functioning of our armed forces in other ways. In recent weeks, military personnel and military equipment have been deployed all over Europe to assist the population, whether in their own country or not, to cope with the consequences of these climate crises. Firefighting, road works, housing shortages, food distribution, medical support, rescue operations – in short, soldiers and the armed forces in general were deployed in almost all segments of these crises. A number of examples can be found elsewhere on our website.
We can therefore take into account that these kinds of assignments will increasingly end up on our plates in the future and, although there can be no question of forsaking our fellow citizens in this matter, lessons must again be drawn from this for the future. It cannot be that the military and the armed forces have to step in, ad hoc, time and again when it is appropriate and necessary. What we are currently doing is extinguishing fires told that apparently there are insufficient "normal" resources available. At that point it is often too late. An identical problem arises with the deployment of defense in the event of a pandemic, as we have known with COVID-19. The British epidemiologist Marc-Allen Widdowson recently highlighted: "It is clear that the current system does not work. It is somewhat reminiscent of the collection box at the bakery, or the bowl that is passed around during Mass. That is not sustainable way of working. You have to set up formal structures that oblige countries to do their part."
If we do not structure our future deployment options, it will always be "too little, too late!" But there is no doubt that these kinds of assignments will also influence the future of our armed forces – so we better prepare for it!
Emmanuel Jacob
EUROMIL President