The Unseen Battle: Mental Health Challenges for Military Personnel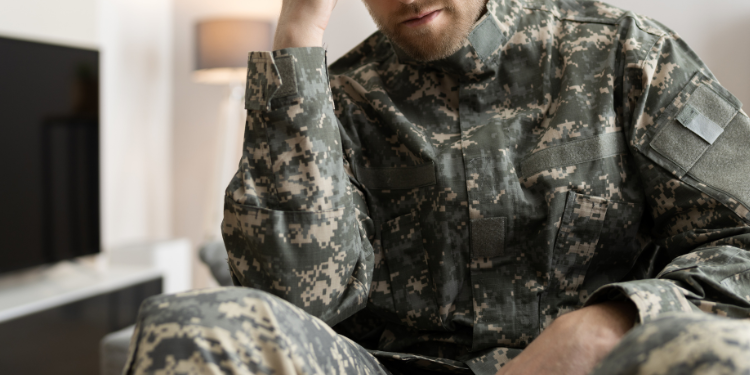 As the European elections draw near and the European Union (EU) unveils its comprehensive approach to mental health, it is crucial to bring attention to the critical issues impacting our society. With different flagship initiatives, the approach aims to prioritize mental health on par with physical health and establish a cross-sectoral approach to mental health issues. By focusing on prevention, access to quality care, and reintegration into society after recovery, the EU seeks to address the multifaceted risk factors contributing to mental-ill health. The EU's commitment to mental health signifies a significant step forward in recognizing and addressing the impact of mental health problems on individuals and society as a whole.
Among these topics, the mental health of military personnel, both in active duty and after their service, should stand out as a pressing concern. The men and women who serve in the armed forces play a vital role in ensuring safety and security, often facing challenging and demanding situations that can have profound effects on their well-being. It's important to note that the duty of care for military personnel doesn't stop at retirement age or upon leaving the armed forces. Some consequences, such as post-traumatic stress disorder (PTSD), may only manifest many years after the mission or event that formed the basis of their condition. Therefore, it is crucial to provide ongoing support and assistance to former military personnel, acknowledging that their mental health needs persist long after their service has ended.
Recognizing the significance of mental health support for military personnel and advocating for comprehensive measures to address their unique needs is of utmost importance for EUROMIL. Military service presents numerous stressors, including extended deployments, exposure to traumatic events, separation from loved ones, and the weight of high-stakes responsibilities. These factors can significantly impact the mental well-being of service members, irrespective of their ranks, roles, and branches.
One of the primary obstacles to addressing mental health issues in the military is the enduring stigma surrounding seeking help. To combat this stigma, we must prioritize raising awareness and fostering a culture that encourages open conversations about mental health challenges. Furthermore, establishing accessible and comprehensive mental health services is crucial to adequately support the mental health needs of military personnel, with programs that focus on prevention and early intervention. Integrating mental health training into the initial and ongoing military training can equip service members with the necessary coping strategies. By emphasizing prevention, we can work towards reducing the overall burden of mental health issues among military personnel.
Post-service support is equally important, as veterans can face unique risks and challenges to their mental health. Adjusting to civilian life can be problematic, leading to relationship or family problems, homelessness, and social exclusion. The most common mental health problems among personnel and veterans include depression, anxiety, alcohol problems, and PTSD. Post-deployment mental health challenges are often overlooked but can significantly impact military personnel. The EU can encourage member states to implement comprehensive post-deployment support systems, including reintegration programs. By sharing best practices and facilitating the exchange of knowledge and expertise, the EU can foster collaboration among member states, ultimately improving the well-being of military personnel.
As we approach the European elections, it is crucial to advocate for the prioritization of mental health support for military personnel. By addressing the unique challenges faced by those who serve in our armed forces, we can promote a healthier and more resilient society. Tackling mental health challenges among military personnel requires a multi-faceted approach, and the EU has a vital role to play and can significantly contribute to the well-being of military personnel. With its commitment to safeguarding the well-being of its citizens, the EU can play a crucial role in tackling these problems by implementing comprehensive measures and supporting initiatives to enhance mental health support systems for military personnel. By prioritizing mental health and working in partnership with member states and other stakeholders, the EU can ensure that military personnel receive the support they need and deserve.
In relation to Mental Health, EUROMIL has actively promoted it by endorsing the EndStress.EU campaign (link), an initiative by Eurocadres in cooperation with ETUC, to tackle the stress epidemic, which addresses psychosocial risks, violence and harassment and improves work organisation. Furthermore, EUROMIL endorsed a joint statement on Mental Health in all Policies (link) from Mental Health Europe.
This article is part of EUROMIL's European Elections 2024 project.