Roundtable Meeting on Military Trade Unions in Malta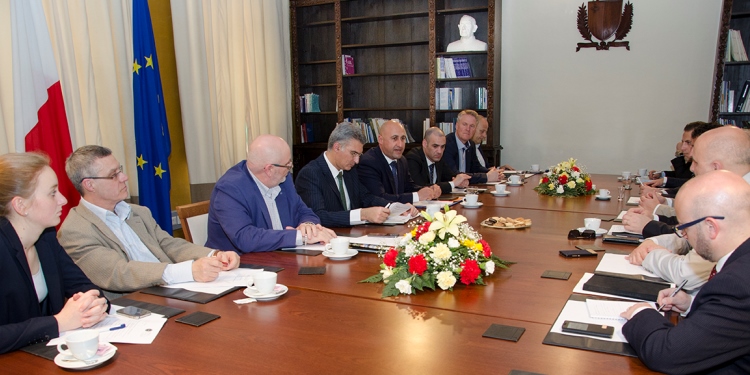 As a follow-up on the first visit of the President of EUROMIL, Emmanuel Jacob, to Malta in February 2016, EUROMIL organised a roundtable meeting on military trade unions in Valletta on 5 April 2016.
The President opened the meeting by pointing out that EUROMIL was pleased to be back in Malta, to discuss the setting-up and functioning of military trade unions. He emphasized that EUROMIL can serve as a platform for coordination and sharing experiences in the field of military trade unionism. Representatives of the General Workers Union (GWU) and the Armed Forces Union (AFU) explained the current situation in Malta, where the military personnel was only granted trade union rights a year ago. In a short period of time, AFU was established and today it counts already 400 members, which is about 25% of the military personnel of Malta. Two EUROMIL Board members, Ton de Zeeuw and Johan Öhlen, shared the experiences they have made in their respective association in the Netherlands and Sweden.
The commander of the Armed Forces of Malta (AFM) joined the meeting as well, insisting that he is looking forward to collaborating with GWU and especially AFU.
The afternoon session was kindly hosted by the Maltese Minister of Security and Internal Affairs, Onor Carmelo Abela. In the presence of local media, the Minister pointed out that since the change in legislation and within only one year, a lot has already been achieved for military personnel. John Cuvillier, a qualified expert in the human resources field of the Belgian Ministry of Defence, stressed the importance of mutual respect. Only in an atmosphere of respect between the ministerial level, the trade unions, and the armed forces the best results for military personnel can be achieved.
In their closing remarks, the President of AFU, Aldo Borg, as well as the President of EUROMIL underlined their commitment to future collaboration. EUROMIL is looking forward to welcoming representatives of AFU to its upcoming Presidium Meeting in Montenegro.
A video about the meeting can be found here, an article in the Maltese iNEWS newspaper is available here.