OSCE/ODIHR, DCAF & EUROMIL Online Seminar on Military Personnel's Right to Health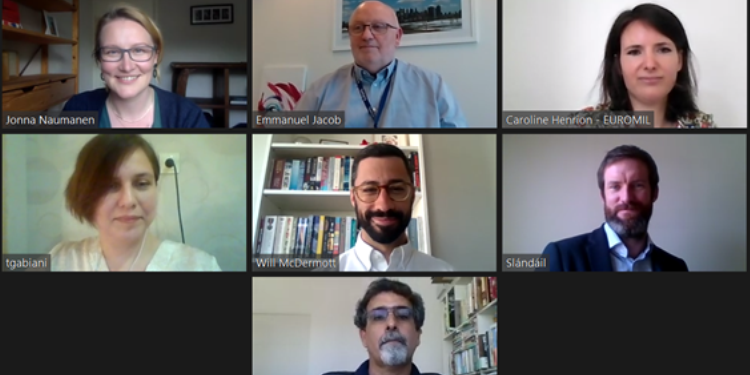 On 28 May 2020, EUROMIL, together with the OSCE Office for Democratic Institutions and Human Rights (ODIHR) and the Geneva Centre for Security Sector Governance (DCAF), organised a web-based seminar focusing on the topic of "COVID-19 and the Military Personnel's Right to Health".
With COVID-19 the military has been called up to supplement civilian health emergency response measures across the OSCE during the past months at an unprecedented scale, performing tasks unaligned with traditional military training and preparedness. Defence forces have had to devise new strategies and practices to protect the health of their soldiers and to guarantee good and safe working conditions. Access to healthcare and swift evacuations for soldiers, as well as access for oversight bodies to conduct monitoring and inspections are among the critical elements in applying the rights to health of armed forces personnel in this new context.
As a pre-launch event to the new edition of the ODIHR-DCAF Handbook on Human Rights and Fundamental Freedoms of Armed Forces Personnel, this webinar addressed the right of armed forces personnel to both physical and mental health during and after health emergencies, including different implications of measures for men and women in the armed forces.
The discussion was introduced and moderated by Jonna Naumanen, Human Rights Officer, Gender and Security at OSCE/ODIHR. The panel was composed of Emmanuel Jacob, President of EUROMIL, Carlos Carrion-Crespo, Specialist, Sectoral Policies Department, International Labour Organization, Tamar Gabiani, Head of the Department of Human Rights Defense in Georgia, Public Defenders Office of Georgia and Gerry Waldron, retired Medical Officer, Founder and Director of the Irish National Security Summit Slándáil. William McDermott, Project Officer, Policy and Research Division at DCAF, concluded the debate.
Distinguished panellists discussed the application of international standards in the context of the current health crisis. They outlined challenges and good practices emerging from different States as regards the protection and promotion of the right to health for military personnel. They addressed the role of oversight bodies in this regard and finally presented concrete examples of the handling of the current pandemic in different armed forces.
In this debate, EUROMIL President Jacob expressed the voice of EUROMIL member associations and concluded that there is a need to draw lessons from the current crisis and get prepared for the next wave of COVID-19 or future pandemics. It is also the occasion to highlight what works and what does not work and make recommendations to authorities on how to improve the functioning of the armed forces while at the same time protecting the health of its members in times of crisis and beyond.
The event was recorded. The video can be viewed here.
A detailed EUROMIL written report is available here.
The List of ILO documents Carlos Carrion-Crespo referred to is available here.
The presentation of Gerry Waldron is available here.