On Duty in the Extreme Arctic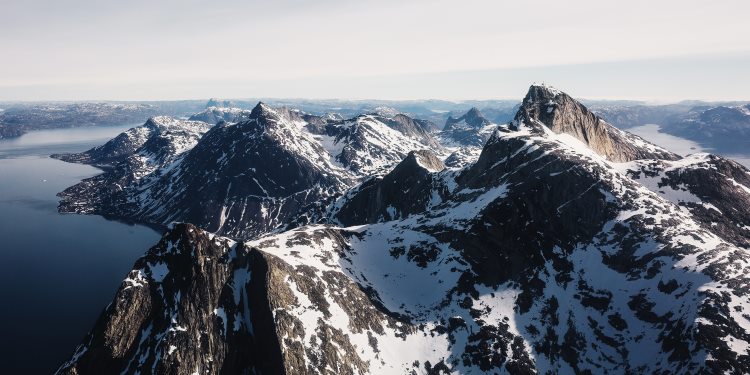 Danish CS' members are drawn to the Arctic's sense of community, the operative tasks, and the beautiful nature. However, as the ice melts and great power competition intensifies, one military analyst argue that CS' Artic members must soon run even faster to keep up.
The Arctic region is known as the land of extremes: With its polar desert, rocks, rivers, and surrounding icy waters the Arctic composes a scenic yet inhospitable landscape, where, depending on season and area, temperatures rise to 26 degrees Celsius and drop below 45. In this barren region the Joint Arctic Command Denmark (JACMD) operates.
JACMD, which next fall turns ten, manages several tasks, including sovereignty enforcement, monitoring sea waters, conduct search and rescue operations (SAR), as well as bomb disposal – just to name a few.
0 to 60 in one and a half seconds
Thirty year-old Constable at the Danish Air Force, Patrick Andersen, arrived at the JACMD headquarters in Nuuk just over a year ago, and he plans to stay even longer than his mandatory two years.
"My workday varies a great deal. One minute I might be huddled over my projects and tasks, but once the alarm sounds, the entire JACMD Operations Center goes from 0 to 60 in one and half second. One day we were conducting five SAR-operations simultaneously. I was tired when I finally got home." He says laughing.
"I really like it here in Greenland. Living conditions are good, and we have many great opportunities to go hunting, fishing and being outdoors."
However, not all members of the Danish forces are as exited for the Arctic posting as Patrick Andersen. According to the Danish Defence Ministry, today only 99 of JACMD's 109 positions are manned. Also, sergeants on all levels tend to stay on average just 22 months in Greenland compared to their colleagues in the rest of JACMD, who stay on for 35 months.
The brief postings affect the daily operational environment in Nuuk, Patrick Andersen says:
"It can be challenging that some only commit themselves for two years, and you must expect a rotation every other year. As a result, quite a lot of knowledge can get lost, and we are thus forced to reinvent the wheel."
Major trends mean mounting workload
According to military analyst and Naval Officer at the Royal Danish Defence Academy, Anders Puck Nielsen, the Danish Defence will soon need those missing employees at JACMD: Two major trends and bringing lasting changes to Greenland and the Artic, the analyst says "as the ice melts, more tourism, fishing, and sea trade in the Arctic area will follow, and thus more SAR operations, which is currently managed by JACMD."
The other trend, according to Anders Puck Nielsen, is the military buildup in the region headed by the United States on one side and Russia on the other:
"Greenland is of significance to the US, because any missile or air attack must fly over the North Pole toward North America. This is close to Greenland. Also, Russians submarines will likely have to pass south of Greenland. I believe that this great power dynamic will also affect the workload of Danish forces in the Artic in the coming years."
Patrick Andersen is not personally put off by the prospect of a heavier workload or a faster-paced workday, he says:
"We must not forget that Greenland is only Greenland as long as we are willing to enforce Greenlandic sovereignty. And we are only skilled in SAR because we are skilled in our military tasks. There is a reason why we are present in the Arctic and that is to defend what is most dear to us."
This article was written by Anders Højer Rømeling. For more information, please contact CS.
Photo by Filip Gielda on unsplash.