News from Germany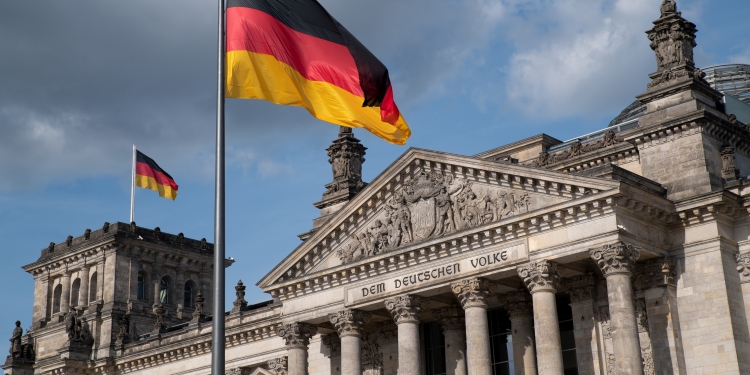 Uncertain Extension of the EUTM Mali Mandate in German Parliament
The extension of the EUTM Mission Mali by the German Bundestag is currently questionable. Before the expiry of the mandate at the end of May 2022, a debate opened on whether the current political framework conditions in Mali are compatible with the basic democratic understanding of the German Bundestag. The military junta had announced that it would not hold elections in the West African country. On 11 April HR Josep Borrell declared that the European Union will halt part of its training of Mali's armed force.
An EUTM sind derzeit gut 300 Bundeswehrsoldaten beteiligt, an Minusma etwa 1100. Beide Mandate laufen Ende Mai aus. Bundesregierung und Bundestag müssen bis dahin entscheiden, ob und wenn ja in welchem Umfang sie verlängert werden. Vor allem der Ausbildungseinsatz der Bundeswehr in Mali ist wegen der Zusammenarbeit von Malis militärischer Übergangsregierung mit russischen Söldnern umstritten. Nach dem Ende des Afghanistan-Einsatzes der Bundeswehr im vergangenen Jahr gilt das Engagement in Mali als der derzeit gefährlichste Auslandseinsatz deutscher Soldaten.
Further information (German language only):
https://www.dbwv.de/aktuelle-themen/einsatz-aktuell/beitrag/aussenministerinbaerbock-in-mali-eu-stoppt-ausbildungsmission
https://www.bmvg.de/de/aktuelles/eutm-mali-aussetzung-der-ausbildung-istkonsequent-5392342
Special Asset "Bundeswehr" – Update
The presented proposal of a Special asset "Bundeswehr" by Chancellor Olaf Scholz from 27 February 2022 in the amount of 100 billion Euros is currently in the legislative process. Therefore, the German government submitted two separated draft bills to German parliament. The Bundestag will debate on these two legal proposals on Friday 29 April 2022 in a first hearing.
Im Bundestag sprach Bundeskanzler Olaf Scholz in seiner Regierungserklärung von einer Zeitenwende, ausgelöst durch den am 24. Februar begonnenen Angriff Russlands auf die Ukraine. Und sprach die Worte aus, die für die Zukunft der Bundeswehr entscheidend sind: "Wir müssen deutlich mehr investieren in die Sicherheit unseres Landes, um auf diese Weise unsere Freiheit und unsere Demokratie zu schützen. Das ist eine große nationale Kraftanstrengung. Das Ziel ist eine leistungsfähige, hochmoderne, fortschrittliche Bundeswehr, die uns zuverlässig schützt. (…) Wir werden dafür ein 'Sondervermögen Bundeswehr' einrichten. (…) Der Bundeshaushalt 2022 wird dieses Sondervermögen einmalig mit 100 Milliarden Euro ausstatten. (…) Wir werden von nun an Jahr für Jahr mehr als zwei Prozent des Bruttoinlandsprodukts in unsere Verteidigung investieren."
Further information (German language only):
https://www.dbwv.de/aktuelle-themen/blickpunkt/beitrag/das-sondervermoegen-fuerdie-bundeswehr-was-es-damit-auf-sich-hat-und-wofuer-es-verwendet-werden-soll
https://www.bundestag.de/presse/hib/kurzmeldungen-890322
https://www.n-tv.de/politik/Sondervermoegen-soll-komplett-in-Ausruestung-fliessenarticle23180332.html
The German Budget Committee of the German Parliament approves 2.4 billion euros for personal equipment of military personnel
The budget of 2.4 billion euros for the "early procurement" of personal equipment for soldiers has been approved by the Bundestag's budget committee. Although the federal budget for 2022 has not yet been passed, the procurement of marketable equipment is now to be initiated quickly.
Further Information (only in German language):
https://www.dbwv.de/aktuellethemen/blickpunkt/beitrag/tagesbefehl-zur-persoenlichen-vollausstattung-was-kommt-biswann
Open debate on the supply of heavy weapons to Ukraine
Due to recent ongoing public debate on the direct export of heavy military weapons to Ukraine, German government is still indecisive whether to confirm Ukrainian requests or to deny them, nevertheless the German Government agreed on the additional rise of military aid from 225 million euros to 2.0 billion euros.
Further information (only German language):
https://www.bundesregierung.de/bregde/themen/krieg-in-der-ukraine/scholz-ukraine-interview-2025666
German Army receives armed drones
The discussion lasted for many years, but now it is clear: the Bundeswehr will receive armed drones. Today the Defense Committee and the Budget Committee of the Bundestag gave the go-ahead for the purchase of ammunition for the Bundeswehr's Heron TP drones.
Es geht um ein Geschäft im Wert von 152 Millionen Euro. Nach Angaben der "Süddeutschen Zeitung" sollen mit dem Geld 140 Raketen für das israelische Drohnenmodell Heron TP beschafft werden – 60 Flugkörper für die Ausbildung am Waffensystem, der Rest für Einsätze. Eine nahezu endlose Geschichte ist diesem Schritt vorangegangen. Diskutiert wird über die Beschaffung von bewaffneten Drohnen für die deutschen Streitkräfte seit vielen Jahren. In der vergangenen Legislaturperiode wurde schließlich von der Großen Koalition die Anschaffung der Heron TP beschlossen. Doch als es um die Munition für die UAV ging, machte die SPD einen Rückzieher – die Sozialdemokraten sahen noch weiteren gesellschaftlichenz Diskussionsbedarf beim Thema Drohnenbewaffnung.
Further information (only German language):
https://www.dbwv.de/aktuellethemen/blickpunkt/beitrag/bundeswehr-bekommt-bewaffnete-drohnen
Extension of German military engagement on the NATO Eastern and SouthEast Flank
Due to actual war in Ukraine German Army sent additional military naval supply in the Baltic Sea, air defence elements to Slovakia and additional support for NATO Air Policing in Romania.
Deutschland verstärkt u.a. auch sein Engagement an der Süd-Ost-Flanke des Bündnisgebiets: Ab Mitte Februar werden sich drei Eurofighter der Luftwaffe am Air Policing in Rumänien beteiligen. Zudem wird sich das Minenjagdboot "Bad Rappenau" dem Ständigen Minenabwehrverband 2 der NATO anschließen – es geht ins Schwarze Meer.
Further information (only German language):
https://www.dbwv.de/aktuelle-themen/einsatz-aktuell/beitrag/minenjagdbootund-eurofighter-deutschland-engagiert-sich-an-der-sued-ost-flanke-der-nato
https://www.dbwv.de/aktuelle-themen/einsatz-aktuell/beitrag/nicht-waehrendunserer-wache-marine-entsendet-weitere-schiffe-und-soldaten-in-die-ostsee
https://www.dbwv.de/aktuelle-themen/einsatz-aktuell/beitrag/lambrecht-beiluftwaffen-soldaten-in-rumaenien-keinen-millimeter-weichen
Dissolution of deployment contingent for Corona assistance mission after two years COVID 19 crisis
After two years, the Bundeswehr is dissolving the deployment contingent that was set up in March 2020 to support civil authorities in the coronavirus pandemic. The reason for this is the war in Ukraine and the concentration on the core competence of national and alliance defence. Administrative assistance in the ongoing pandemic should remain possible in individual cases.
Further information (only German language):
https://www.bundeswehr.de/de/organisation/streitkraeftebasis/aktuelles/amtshilfebundeswehr-fokussiert-sich-auf-kernaufgaben-53828
For more information please contact DBwV.