EUROMIL Holds 125th General Assembly Meeting in Slovakia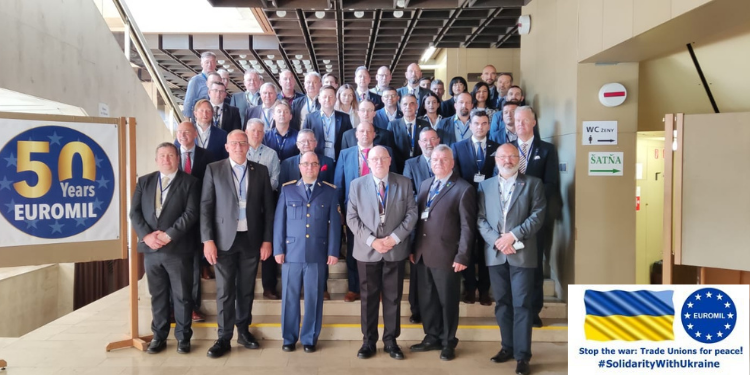 On 29 April 2022, EUROMIL held its 125th General Assembly meeting in Trenčín, Slovakia, hosted by member association ZVSR.
EUROMIL President Emmanuel Jacob opened the conference by welcoming members and reiterating the organisation's mandate to achieve better social rights for all workers, in particular military personnel. In his opening speech, Mr Jacob highlighted how the passing of time has not necessarily led to change for the better. Drawing upon the last EUROMIL meeting in Slovakia in 1993, Mr Jacob drew attention to the issues of that time which included a statement by EUROMIL's then Ukrainian member calling for democracy in Russia. Additionally, Mr Jacob highlighted from the 1993 minutes the Irish situation, in which PDFORRA were prohibited from affiliation with the Irish Confederation of Trade Unions – an issue which is still very much ongoing today despite repeated efforts to see this change.
Following the President's welcome, ZVSR representative Jan Paulech, provided a few words on behalf of the Slovakian association and then a presentation was provided by State Advisor of the Human Resources Department of the Slovakian Ministry of Defence, Mr Pavel Czirak, in which he gave a detailed overview of his PhD research on the 'Concept of care for professional soldiers and retirees and their families.'
The general assembly meeting continued throughout the order of business, most notably with the approval of Italian association, ITAMIL, with observer status at EUROMIL. ITAMIL is an Italian association founded in 2020 with more than 1000 members from the Italian army and ITAMIL representatives are present in almost all Italian army barracks.
The meeting continued with the presentation of the national reports of EUROMIL members followed by breakout regional meetings in which the members present from the various regions could gather together to discuss shared issues. Notably, participants at the general assembly meeting agreed upon a joint statement in support of the Ukrainian people and against Russian aggression in Ukraine.
The meeting concluded with a presentation and discussion of 'useful instruments' available to EUROMIL members that the organisation can utilise to support them in seeking better rights for military personnel in their country. This included the European Social Charter and EUROMIL's capacity to make complaints on behalf of members to the European Committee of Social Rights, a process that has already been availed of on behalf of Irish and Portuguese members, as well as the Universal Periodic Review and European Social Dialogue.
The day's events closed at 17.00 and members will meet again in Berlin in October 2022 for the 126th General Assembly meeting.