Defending Essential Workers' Trade Union Rights: Report Submitted to Council of Europe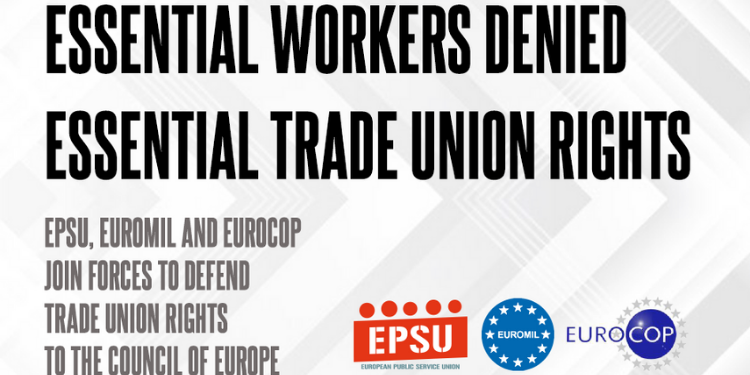 On Friday, 1 July the European Federation of Public Service Unions (EPSU), the European Confederation of Police (EuroCOP) and the European Organisation of Military Associations and Trade Unions (EUROMIL) submitted a report on violations of trade union rights to the Council of Europe's European Committee of Social Rights (ECSR). Together these trade union federations represent millions of public workers, such as nurses, social carers, prison, probation officers, firefighters, police officers, soldiers, tax, labour inspectors.
In many European countries public workers deemed essential to fight the Covid-19 pandemic continue to be denied essential trade union rights to defend better pay and working conditions. The protection and extension of the basic trade union rights to organise, negotiate and take collective action, as well as an even application of EU social minimum standards to all public services workers, are shared concerns for all three trade union federations.
As part of a two-year European Commission-funded project, the federations have commissioned a team of academics led by Alexander de Becker of the University of Ghent to draft a report on common issues and trends across Europe. The report provides a good basis for the ECSR to examine the situation in greater depth by holding further exchanges with the federations and their members.
It also exposes the inconsistency of approaches between countries. If civil servants and public service workers in the Nordic countries, Belgium and the Netherlands – for example – can organise, negotiate (including on pay) and take collective action, why not in the Baltic states, Hungary, Poland, Bulgaria or Turkey? If the police services in Scandinavia can organise, negotiate and take (restricted) collective action, then why not in Ireland and Malta? And if military personnel in the Nordic countries, the Netherlands, Belgium and even Hungary, among others, can organise, negotiate and take (restricted) collective action, why not in the Baltic states, Bulgaria, Romania, Italy, Spain and Portugal?
For the federations, the broadest possible rights must be afforded across all public services in Europe. Any unjustifiable limits on those rights pose a threat to all our unions and professional associations. The denial of trade union rights to large numbers of public service workers can be used to restrict rights where they already exist or deny rights where they might be claimed.
The joint cooperation between the federations will continue with the preparations of a final conference in Skopje on 22 September, which the ECSR has been invited to take part in.
More information on the project can be found here and for further details see EPSU's website here.