DBwV Holds 21st General Assembly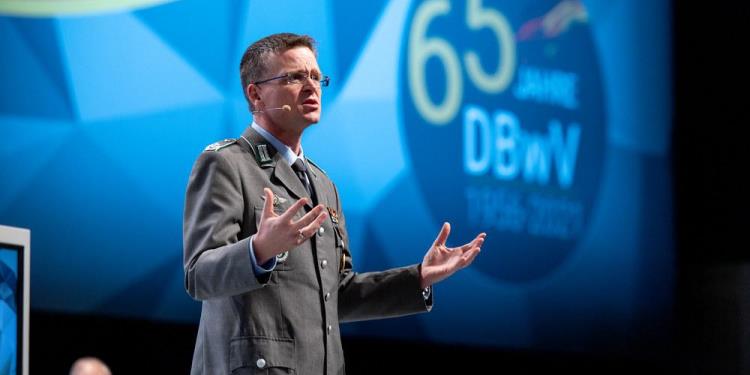 The German Armed Forces Association held its quadrennial general meeting in Berlin from 13 December to 16 December 2021. The three-day event was divided into a first day, during which formalities for the further course of the event were clarified in a first and second plenary debate. Of particular note was the speech by the Inspector General of the Bundeswehr Eberhard Zorn later on in the evening. On Wednesday, the second day of the event, the third plenary debate was scheduled, as well as the election of the department chairs, the Federal Executive Committee. The Federal Chair André Wüstner was confirmed in office for another four years with an overwhelming result of 91 per cent. Staff Sergeant Thomas Schwappacher was elected as First Deputy Federal Chair. The former 1st Deputy Federal Chairman, retired Sergeant Major Jürgen Göhrlich, and the former 2nd Deputy Federal Chairman, Captain Andreas Steinmetz, were appointed as Honorary Chairmen. Lieutenant Colonel in the General Staff Marcel Bohnert was elected as 2nd Deputy Federal Chairman.
Under the headlines "Experience. Competence. Community", the last day of the event was also tackled energetically on Thursday by the plenum. Firstly, the German Bundestag's Commissioner for the Armed Forces Dr Eva Högl, gave her speech. After that the European affairs of the DBwV were presented by responsible member of the federal committee Captain (ret.) Jörg Greiffendorf. Mindful impact was submitted by the Presidents of EUROMIL, Emmanuel Jacob, of CESI with Romain Wolff as well as of the European Movement Germany Dr Linn Selle via digital greetings. The energetic speech of the new Federal Minister of Defence Christine Lambrecht (SPD) ended where it began, with an exclamation mark. Following her speech, the Federal Minister presented Lieutenant Colonel Wüstner his certificate of appointment to colonel.
For more information please contact DBwV.