CS: "Ready from the get-go"
*Picture: Command Sergeant Major Torben Kristensen (far right) training in Estonia as part of the NATO mission, enhanced Forward Presence
Danish Command Sergeant Major Torben Kristensen recently completed five months of deployment to Estonia as part of NATO's enhanced Forward Presence. He reflects on the war in Ukraine as a tragic yet motivating cause for NATO's presence in the Baltics.
By Anders Højer Rømeling
Back in March Command Sergeant Major Torben Kristensen alongside 200 Danish soldiers deployed to Estonia. The group comprised the fifth Danish contingent to NATO's mission, enhanced Forward Presence (eFP). Just a few weeks earlier, Russia invaded Ukraine, and at the time no one knew if the conflict would engulf other parts of Europe, such as the Baltic countries.
The pressure was on, needed to be ready, Torben Kristensen recalls:
– We arrived in early Spring, and after just six days we had to be ready to join the British forces in Estonia. Everything had to be in order from the get-go: Unpacking equipment, preparing vehicles and weapons, and so on. Those of us who hadn't previously been deployed outside of Denmark, had to learn the hang of things quickly, which was a valuable experience for everyone.
Good working conditions and lots of exercises
One of the key things to get in order back in March was the buildings, which would house the Danes for the next five months:
– A year had passed since the last Danish contingent was in Estonia, so when we arrived, we had to set up all our equipment. Overall, the working and living conditions at our base were top-notch. The buildings were bright, modern, and tidy. We only had to do our own cleaning, which served us as a good reminder on how and why to keep our areas in order just like when we were conscripts.
– During the Spring and Summer, we did a lot of exercises, especially with the British forces. We also trained with our Estonian colleagues who of course have a lot of experience manoeuvring in the Baltic terrain. Furthermore, the training allowed us to maintain and deepen our professional relations with the Estonian forces, who we have worked with as part of the NATO Readiness Initiative.
The war was absent yet ubiquitous
Torben Kristensen also recalls how he and his colleagues were tasked with other assignments closer to the civilian world outside the military perimeter:
– We took part in an event led by the Danish Embassy in which Danish athletes visited Estonia. During this event, Ukrainian children, who had recently fled the war, were invited, and some of us did sports activities with the kids. It was an immense joy witnessing the Ukrainian kids wrestling, playing games, and simply having a great time with the Danish soldiers.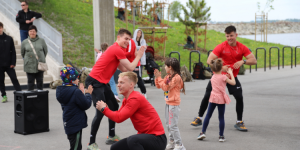 "Danish soldiers playing games with Ukraine children, who recently fled to Estonia".
This leads Torben Kristensen to reflect on the paradox of the war in Ukraine. The fighting in Ukraine felt incredibly absent, yet ubiquitous, he tells:
– The conventional threat posed by the Russians toward Estonia was at the time lower since many of the Russian soldiers on the other side of the border had been moved to Ukraine.
– On the other hand, the war in Ukraine made our presence in Estonia much more tangible. The Estonians have always argued that it is not a matter of if the Russians come, but when they will come.
And this is the fundamental reasoning behind eFP; that we are here to support and strengthen the Estonian defense as NATO allies.
Our presence is highly relevant and valuable
This Summer, Danish media cited Baltic security and defense experts criticizing Denmark for being the sole nation in the Baltic Sea region not willing to raise defense spending fast enough. Did Torben Kristensen hear such criticism during his deployment?
– No, I didn't witness that myself. I felt that the Estonians were grateful for our contribution, for the fact that we were physically present. We focused on the value of our deployment, that we had the opportunity to cooperate with Estonian, British, and French forces – we also need to keep in mind that these nations are among our primary partners. The British forces have been great in including us – a small nation – into their structure and their exercises. The whole reason for us being here in Estonia, I believe, has proven to be highly relevant and highly valuable.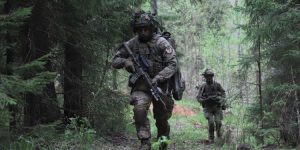 "Torben Kristensen and his 200 colleagues comprised Denmark's fifth contingent to NATO's enhanced Forward Presence mission in Estonia".