2016 – Still Young but Already Promising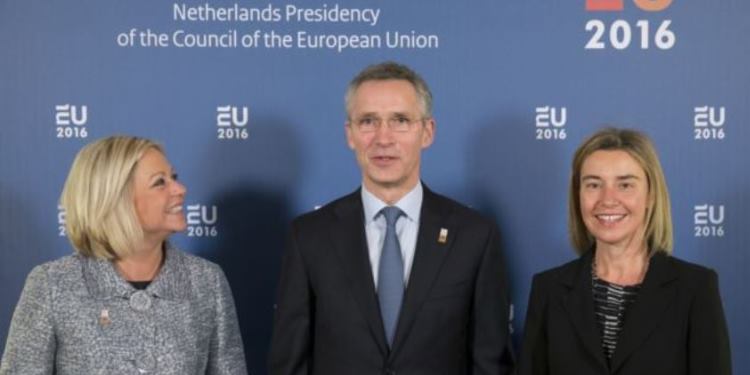 Although we are still at the beginning of 2016, it looks already promising.
Important steps towards the creation of united European armed forces
At European level, the Dutch Presidency of the Council of the European Union for the first semester 2016 had a promising start. After only one month, on 4 and 5 February 2016, an informal meeting of the European Defence Ministers took already place in Amsterdam. Michel Barnier, Special Adviser on European Defence and Security Policy of President Juncker, presented the current state of play with regard to the preparations of the European Defence Action Plan. This Action Plan will be published in autumn this year, a few months after the presentation of the EU Global Strategy which is foreseen by June 2016. Both initiatives will be of highest importance for Europe and its functioning in its global environment. The Dutch Presidency seeks to foster closer European military cooperation and ensure defence is given a well-defined place in Europe's new security strategy. EUROMIL will thus closely monitor the preparations and content of both papers.
On 4 February 2016, on the eve of the informal meeting of the Defence Ministers, Dutch Minister of Defence, Jeanine Hennis-Plasschaert, and her German counterpart, Ursula von der Leyen, signed a declaration on closer naval cooperation. The signing took place on board of the "Karel Doorman", a Dutch navy ship which – for financial reasons – has been exclusively used as supply ship with a reduced crew since 2013. Subsequently, the Netherlands approached international partners for possible joint use, in order to allow the ship to be deployed for other purposes. The Dutch Minister of Defence declared that she expects the Dutch navy to collaborate in the future with other partners as well. Furthermore, both countries decided on the integration of the German Naval Force Protection Battalion (Seebataillon) into the Royal Netherlands Navy under Dutch Command and the integration of the 43rd Mechanized Brigade into the German 1st Armoured Division. This bi-national agreement is once again a step forward towards European defence integration.
As I already stated on several occasions, the budgetary situation of European armed forces has only one positive consequence: member states and their armed forces will work together more closely.
Cooperation will also be on the agenda of a conference on the Eurocorps, scheduled to take place in April 2016. It will be discussed how the Eurocorps can better be integrated in the CSDP structure and how more nations can join or support it. The Eurocorps is "NATO experienced, perfectly skilled and equipped but also with a unique political EU dimension, which is widely employed, and whose ambition is to become the preferred HQ in any EU operation", LtGen Alfredo Ramirez, Eurocorps Commander, said on 4 February at a meeting of the Subcommittee on Security and Defence (SEDE) in Strasbourg.
European defence as a (strong) NATO partner
On 10 February 2016, NATO and EU signed an agreement to improve cooperation in cyber defence. The new agreement will facilitate information-sharing in order to improve cyber incident prevention, detection, and response at both the EU and NATO level. Since the annexation of Crimea by Russia in 2014, NATO and EU, which count 22 member countries in common, have been accelerating their cooperation in a number of defence-related fields.
On 28 January 2016, NATO Secretary General, Jens Stoltenberg, presented the Annual Report 2015. The most interesting finding surely is, that the cuts in defence spending of allied forces were close to zero. The guideline agreed on by the allies at the Wales summit is that at least 2% of GDP should be allocated to defence spending and at least 20% of that spending should be invested in major equipment, including research and development. In 2015, NATO observed a real improvement in fulfilling the commitment made in Wales:
19 countries stopped the cuts in defence spending in 2015. In total, 16 NATO members not only stopped the cuts in their defence budgets in 2015 but increased their defence spending in real terms (as GDP grows). 12 of these countries are forecast to have increased their defence spending as a percentage of GDP in 2015. Furthermore, three allies met the 2% guideline in 2014, whereas it is estimated that five allies will have met the goal in 2015.
"After many years of substantial reductions in defence spending, the cuts have now practically stopped among European Allies and Canada. And in 2015, defence cuts were close to zero", NATO Secretary General Stoltenberg said. He emphasised however, that more needs to be done to increase defence investments despite major security challenges.
Meanwhile, preparations in view of the forthcoming Warsaw Summit continue. On 10 and 11 February, NATO Defence Ministers met in Brussels. Besides preparing the summit, they discussed NATO's presence in Poland and the Baltic states. The SACEUR was tasked to draw up a plan for a rotation of NATO presence on the alliance's Eastern border. However, a permanent HQ will not be established.
NATO Defence Ministers also agreed that NATO will provide support to assist the EU in managing the refugee and migrant crisis. "The goal is to participate in the international efforts to stem the illegal trafficking and illegal migration in the Aegean," Stoltenberg said. On the one hand this support from NATO is welcome to address the current challenges whereas on the other hand it is also a sign that the security instruments the European Union has at its disposal (mainly Frontex) are perceived as not strong, not reliable and not efficient enough.
Currently, Frontex counts 775 officers and support staff deployed on the Greek islands as part of Poseidon Rapid Intervention. The operation also includes 15 vessels patrolling the most affected areas by the migration flows. After the NATO decision to deploy an operation near Turkey, Frontex Executive Director, Fabrice Leggeri, met with NATO Secretary General Stoltenberg and EU Commissioner, Dimitris Avramopoulos, to discuss the coordination of NATO and EU activities related to the refugee and migrant crisis. "We will work closely with NATO and its members to cooperate in doing all we can to combat the criminals making billions of euros from smuggling desperate people from Turkey to Greece", Fabrice Leggeri said. "Of course, we'll make sure that all our actions will continue to respect the EU Charter of Fundamental Rights," he added.
I believe that 2016 will, without any doubt, be once again a year full of challenges. But most of all, it will be a year with several key moments for the future defence cooperation, for both the European Union as well as for NATO. There will be a need for close cooperation, strong collaboration and especially for political will to give up sovereignty in order to take stronger steps forward (together)!
Emmanuel Jacob, President EUROMIL