Tradition of the German Armed Forces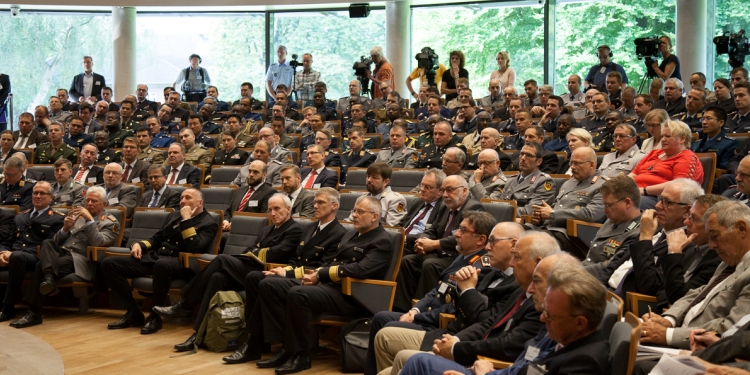 Following on recent scandals within the German armed forces where a young, right wing extremist officer was arrested for planning a terrorist attack and living a double life as a refugee, the debate on German military traditions is high on the agenda. Politicians and high-ranking military officials see the need to clearly state that the national-socialist Wehrmacht cannot be used a tradition-reference for the current democratic Bundeswehr.
In this context, the German Federal Minister of Defence, Dr. Ursula von der Leyen, has instructed the revision of the so called tradition decree (Traditionserlass), dating back to 1982. The revision should happen in a transparent and inclusive process. Therefore, the Ministry of Defence is organising a series of events in which servicemen and -women, civilian employees of the Bundeswehr as well as international and academic stakeholders will be involved. Through the exchange of expertise and discussion with internal and external experts, a new draft text will be prepared.
The first workshop on "The tradition of the German armed forces in the context of a European defence identity and transatlantic security partnership" was held on 17 August 2017 in the Leadership Academy of the German Armed Forces (Führungsakademie der Bundeswehr) in Hamburg. The goal was to discuss to what extent the integration of the German armed forces in multinational structures and its international engagement influences the traditions of the Bundeswehr. It was in this international context that EUROMIL was invited to participate. Together with the Chairman of its German member association (DBwV) André Wüstner, EUROMIL President Emmanuel Jacob, and EUROMIL Vice President, Jörg Greiffendorf, were present in Hamburg.
The discussion was held under Chatham House rules, but made it very clear that that traditions do not have the same importance in the different Western armed forces. While national traditions play an important role in some armies, others mostly cultivate (local) regiment or branch traditions. Finding a common European perspective is therefore not easy. Especially in the view of the current discussions on closer European defence cooperation, common traditions and cultures are however crucial factors that can and will help modelling the identity of the European soldier. "One cannot simply write military traditions" EUROMIL President Emmanuel Jacob said. "They grow together with history and we will see that a European military culture leading to European traditions, will grow hand in hand with the development of a real European defence." That defence is already today a motor of European integration, was something that was agreed on by many participants.
EUROMIL will monitor the future developments of this German project and its European dimension.
(Picture credit: Führungsakademie der Bundeswehr www.fueakbw.de)