The Local Representatives of ATME Meet to Coordinate Working Methods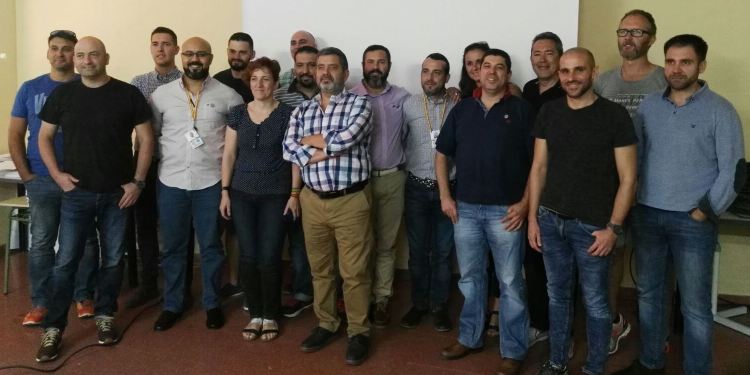 Abstract – The Board of the Spanish Troop and Navy Association (ATME) met with local representatives to discuss the working method of the association. They exchanged ideas in order to improve their coordination, relationship with partner institutions and address the future of the association. The result was frankly positive, since it fostered greater cohesion among the different provinces of Spain represented in the association. The current problems faced by troop and navy personnel were addressed, as well as future lines of action for the association.
Please find the original press release hereunder. For more information, please contact ATME.
Los cargos territoriales de la Asociación de Tropa y Marinería Española "ATME", que representan a cerca de 3.000 soldados y marineros, se dieron cita, el 30 de septiembre en Leganés (Madrid), dentro del marco de las "I Jornadas de Coordinación de Delegaciones Territoriales".
El objetivo principal de esta reunión consistió en cohesionar al personal de las distintas delegaciones a través del contacto directo entre ellos, así como exponer los métodos de trabajo de alguna de ellas. Para ello se realizaron dos mesas redondas, en jornada de tarde, donde se intercambiaron ideas y se trataron las formas de mejorar el trabajo de las delegaciones y su coordinación con la Junta Directiva, así como ver el futuro de ATME.
Se aprovechó asimismo la jornada para impartir a los asistentes unos conocimientos básicos sobre la estructura asociativa, el trabajo realizado, las metas alcanzadas y la situación de futuro de la escala de tropa y marinería.
Como broche final, después de un merecido reconocimiento al trabajo realizado por todos los componentes de la estructura territorial, el presidente agradeció la asistencia de los representantes en Andalucía, Aragón, Canarias, Castilla La Mancha, Castilla León, Galicia, Madrid, Melilla, Murcia, Navarra, Valencia, así como de aquellos que, bien por motivos profesionales o personales, no habían podido asistir.