Strengthening & Defending TU Rights for Public Sector: 2nd Regional Meeting Takes Place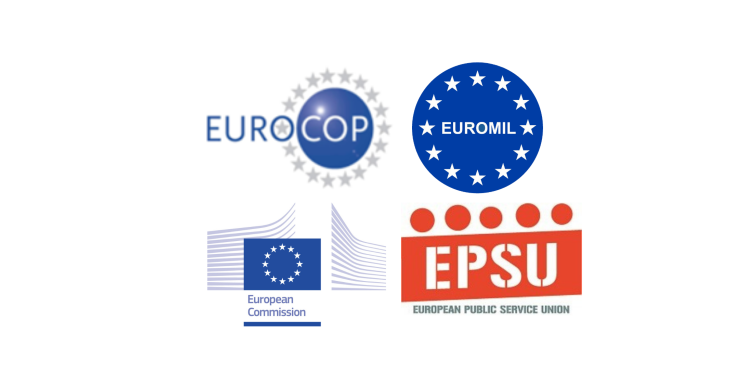 The second regional meeting in EUROMIL's joint project with EPSU and EuroCOP took place on 16 and 17 November 2021. The meeting focused on strengthening and defending trade union rights in the public sector in the context of Bulgaria, Hungary, Czech Republic, Slovakia and Romania.
The two morning sessions followed a similar agenda to the first meeting in the series, with a presentation by Alexander de Becker from University of Ghent, regarding the situation in the countries covered by the seminar. Mr de Becker gave a brief legal analysis of the five countries, highlighting that often the law as formally written diverges from what happens in practice. For instance, attention was drawn to the constitutional protection of the right to strike in Bulgaria and Hungary meaning any challenge to this right would be extremely difficult and onerous. Despite this, particularly in the case of Hungary, irrespective of the constitutional recognition of the right to strike, there are nonetheless broad exceptions in the existing regulatory framework for a number of workers – even those considered 'normal' civil servants.
Following Mr de Becker's presentation, remarks were made by affiliates in Hungary and Bulgaria which provided an important insight into the situation on the ground for workers. Arising out of the presentation it was clear that protections to collective bargaining rights and the exercising of these rights in practice should take centre stage within the discussion.
The first morning session was then brought to a close with a presentation from Nadja Salson of EPSU investigating the extent to which EU sectoral social dialogue can protect and achieve rights for trade unions, as well as an update on EPSU's legal case against the European Commission on information and consultation rights in central government and the upcoming review of social dialogue. The presentation went into an in-depth analysis of the question and with Ms Salson making the important point that moving forward, we must be clearer as to what we expect from social dialogue.
Day two began with an overview on the situation of the Transparent and Predictable Working Conditions Directive within the five aforementioned countries and was followed on with a presentation from Senior Legal and Human Rights Advisor at ETUC, Stefan Clauwaert, on practical legal strategies to defend trade union rights. Again, as a cornerstone of this joint project, collaboration and support between representative organisations is crucial to achieving better rights for all workers and Mr Clauwaert highlighted the readiness of the ETUC to assist affiliates. His presentation gave a detailed overview of the two main avenues available to challenge derogations by Member States, namely the European Committee of Social Rights (ECSR) and the European Court of Human Rights (ECtHR). As members will be aware, the EUROMIL has already successfully utilised the ECSR in making a complaint against Ireland on behalf of its Irish member association, PDFORRA, as well as an ongoing complaint against the Portuguese government. As highlighted by Mr Clauwaert however, the ECtHR poses a far more challenging path in comparison to the ECSR due to the necessity of having to have exhausted all domestic avenues first amongst other reasons.
Mr Clauwaert's presentation was subsequently followed by a prerecorded presentation from Mr Carlos Carrion-Crespo, International Labour Organisation (ILO) specialist on public services and utilities, looking at labour rights in public services and ILO Convention 151. As was pointed out in the previous regional meeting, the specific cultural and historical context of a country has a significant impact on the current framework surrounding trade union rights for workers and this point launched the panel discussion between Richard Pond of EPSU and Emmanuel Jacob of EUROMIL.
The panel discussion brought about an invigorating discussion and allowed members of the affiliates to bring their perspectives to the table. This was an invaluable part of the two day event as it gave a clearer picture of where the project should continue to move towards as attendees from a variety of backgrounds were able to share their experiences with each other and make suggestions based on their specific country situation.
Concluding the event, a number of ways forward were suggested, including the compilation of a joint trade union list of objective grounds in response to exemptions and derogations from protections enshrined in EU legislation. Overall, the second regional meeting highlighted an encouraging display of solidarity amongst affiliates in achieving better rights for all workers, as well as some practical steps moving forward.
The next regional meeting will take place online on 25 and 26 January 2022 and will focus on the situation in Denmark, Finland, Sweden, Latvia, Lithuania, Estonia, Poland as well as touch upon Norway, Iceland, Armenia, Ukraine and Georgia.
For further information please see here or contact euromil@euromil.org.