EUROMIL Holds 124th Presidium Meeting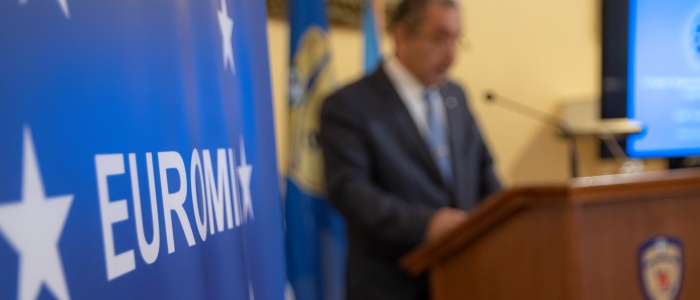 EUROMIL's 124th Presidium meeting took place on 22 October 2021 in Athens, Greece hosted by member association, PFEARFU. The meeting was the first Presidium meeting to take place offline since the outbreak of the COVID-19 pandemic. The meeting was opened by EUROMIL President, Emmanuel Jacob and included key-note speakers President of PFEARFU, Dimitrios Rotas; Dr Konstantinos P. Balomenos, Director General for Defence Policy at the Greek Ministry of National Defence; Ioannis Smyrlis, Secretary General for International Economic Affairs of the Ministry of Foreign Affairs; and Ioannis Paidas, President of the Executive Committee of ADEDY and representative of Greece in the Executive Committee of ETUC.
EUROMIL was extremely grateful to have the speakers present at the Presidium and wholeheartedly welcomes the words of support for EUROMIL's application to the ETUC. The meeting continued with a panel discussion on the issue of the military and migration control at the EU's external borders. Panellists included Dr. Triantafyllos Karatrantos, Marcell Hajdók from the Hungarian Defence Forces Trade Union (HOSZ) and Emmanuel Jacob, EUROMIL President. Unfortunately, speakers Manolis Kefalogiannis, MEP (Greece, EPP) and Grigorios Apostolou, Head of Frontex Liaison Office for Greece and Cyprus cancelled at the last minute and could not attend the panel discussion. The discussion highlighted recent trends in migration from third countries into Europe and also the reasons for migration, such as the outbreak of conflict and climate emergency related disasters. Solidarity with migrants was expressed by EUROMIL members and discussion regarding the role of the armed forces as protectors of human rights was had in the context of the panel topic. In addition, the increase in the expectation for military personnel to carry out non-traditional activities by state authorities was highlighted and it was agreed by panellists that proper training and legislation should be implemented if this is to continue.
The meeting then proceeded with the approval of the day's agenda as well as the approval of the minutes from the 123rd Presidium in April of this year. EUROMIL's finances and budget for the coming year were also assessed. The presidium concluded with an overview of the national reports submitted by members as well as some interventions from those in attendance. Following the Presidium, the Extraordinary Congress took place at which the statute and internal rules were approved, notaries were submitted from members and the day's event concluded.