Stop the Irresponsible Violence!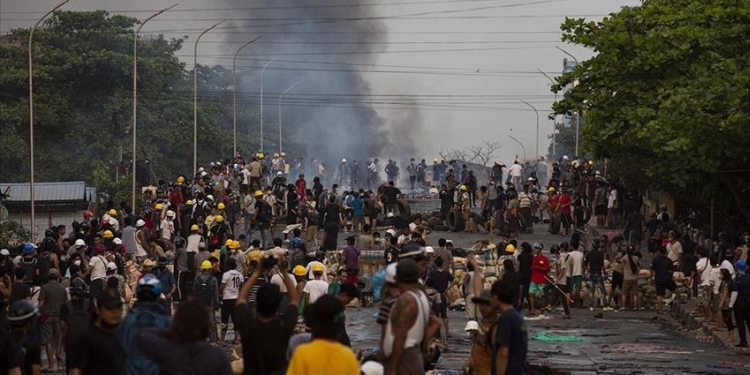 Let me from the outset make clear that what follows is my personal opinion which is written in my capacity as a committed citizen and as a defender of human rights, fundamental freedoms and their key values. What follows is not a EUROMIL position on which we formally or internally agreed on. However, I am convinced that many others had the same bitter taste that I had from seeing some of the media images over the past few weeks.
It is certainly not my intention in the following lines to reflect the situation, let alone a point of view, on the current situation in Myanmar. I have anyway too little knowledge about the country and its history to do so. However, as we were informed extensively through the media, the military leadership took over, or rather took over once again, the lead of Myanmar through a coup on 1 February 2021. This was a reaction to the outcome of the general elections, of which a large majority was won by the NLD party. The military command soon imposed strict restrictions, including a curfew, and strict rules governing the holding of demonstrations and gatherings.
Almost daily we could follow the reactions of the people of Myanmar. Citizens took to the street on an almost daily basis. Teachers, students, lawyers, public and private sector employees, and many others from all corners of society, chose to protest peacefully against the military coup and demand respect for the results of the elections. AAPP, an organisation assisting prisoners, says that at least 328 people have been killed in protests and more than 3.000 activists have been arrested.[1] On Saturday 27 March 2021, Armed Forces Day in Myanmar, numerous casualties were reported Myanmar Now, a local news website, reported approximately 114 fatalities in 40 cities all over the country. In some newspapers it was mentioned that among these victims, were three children aged 7, 10 and 13 years. The United Nations Special Envoy for Human Rights in Myanmar, Tom Andrews, has labelled the situation a "mass murder against the people it (the military) should be defending".[2]
The images circulating all over the world via social media as well as renowned press agencies leave no one unmoved. I am convinced that, like myself, many professional servicemen had a bitter feeling watching the violence inflicted on their fellow citizens by Myanmar's military personnel. While there have been various reactions from the international community in recent weeks, there was also a statement from an unexpected source over the weekend: Twelve chiefs of defence from Australia, Canada, Germany, Greece, Italy, Japan, the Kingdom of Denmark, the Kingdom of the Netherlands, New Zealand, the Republic of Korea , the United Kingdom and the United States of America, addressed a strong statement to the leaders of the military junta in Myanmar.
"As Chiefs of Defense, we condemn the use of lethal force against unarmed people by the Myanmar Armed Forces and associated security services. A professional military follows international standards for conduct and is responsible for protecting – not harming – the people it serves. We urge the Myanmar Armed Forces to cease violence and work to restore respect and credibility with the people of Myanmar that it has lost through its actions."[3]
The fact that these Chiefs of Defence drew up such a statement and distributed it is quite exceptional. In general, military leaders do not get involved publicly in politics and almost never make public statements about foreign policy. The fact that military leaders do hold political influence in certain specific circumstances, however, is another debate that we neither want nor should have at this point.
We, representatives of European military personnel, generally follow this attitude. For EUROMIL, it always has been a point that as an umbrella organisation, we are there to defend the interests of the military community and not to make political statements beyond the goals and raison d'être of our organisation. However, it goes without saying that human rights and fundamental freedoms are of paramount importance to us. And let this also be my motive to on the one hand, support the statement of the twelve Chiefs of Defence, and on the other hand, to make an appeal to all military personnel, military authorities included. "A professional military follows international standards for conduct and is responsible for protecting – not harming – the people it serves" is emphasised in the statement of the Chiefs of Defence. I believe that we should all endorse this!
The excesses of abuse, misconduct and unlawful violence by the military as witnessed the past weeks in Myanmar and unfortunately also elsewhere in the world and throughout history, are reprehensible. First of all, our response should be to strongly reject this behaviour. In addition, our answer must be to make sure that human rights and fundamental freedoms are embedded in one's own working and living environment and that this is the best guarantee to allow armed forces to form a full part of society, and to integrate military personnel into it as fully-fledged citizens in uniform.
Only if both the military and political leaders pursue this hand in hand, together with representatives of the personnel in an atmosphere of mutual respect, can we achieve this successfully.
Emmanuel JACOB, President EUROMIL
[1] https://www.opb.org/article/2021/03/27/myanmar-news-protests-violence-escalates-security-forces-coup/
[2] https://news.un.org/en/story/2021/03/1088462
[3] https://www.defense.gov/Newsroom/Releases/Release/Article/2552778/joint-statement-of-chiefs-of-defense-condemning-military-sponsored-violence-in/