Spanish MoD Gives Up Its Soldiers – A War Veteran Is Living On The Street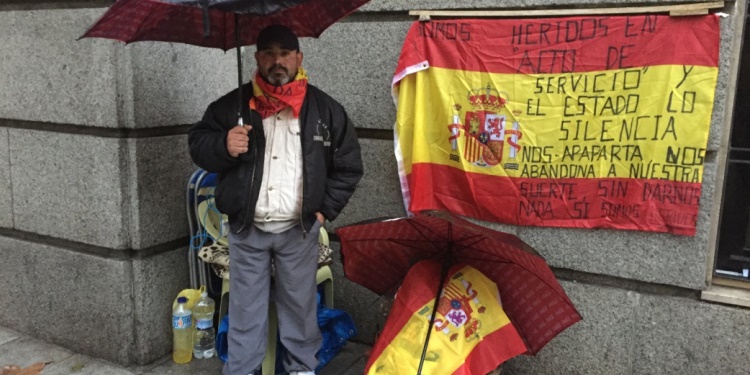 Abstract – The Spanish soldier Andrés Merino suffers from several injuries from an accident which happened while he was deployed in Afghanistan. Later, when he was posted in "La Legión" in Almería in 2013, he was involved in another accident which unfortunately resulted in his inability to work.
The Ministry of Defence (MoD) dismissed Mr. Merino from the armed forces without recognising that the injury which made him "unfit for work" happened after he joined the armed forces as consequence of an "act while on the line of duty" (such as sentenced the Court of Justice of Murcia).
Today, Mr. Merino is in hunger strike outside of the MoD in Madrid, waiting for the ministry to follow the sentence of the Court. The wife and four children of Mr. Merino are anxiously waiting for a solution of this dishonourable situation.
ATME expresses its support to Andrés Merino and all those who men and women who served Spain in the past and are now are forgotten and ignored by the Spanish MoD.
The original article is available here. For more information please contact ATME.