Reflection paper on the future of European Defence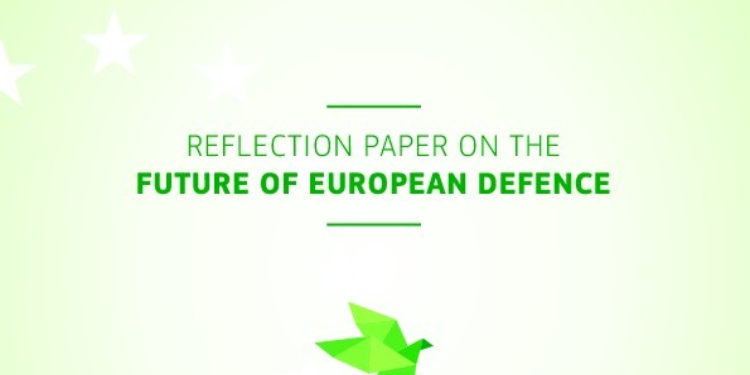 On 7 June 2017, the European Commission published a reflection paper on the future of European Defence which presents three different scenarios for moving towards a Security and Defence Union.
On the same day, the European Commission issued a proposal to launch a European Defence Fund to support a more efficient defence spending by Member States.
From voluntary case by case cooperation to common defence, the scenarios presented in the reflection paper are not mutually exclusive but outline different levels of ambition EU Member States may decide to adopt and implement with the support of EU Institutions in the next years.
The reflection paper is part of a wider discussion the European Commission has launched on the future of Europe with the publication of the White Paper on the future of Europe in March 2017. The reflection paper also complements the efforts currently made by the EU Institutions in the area of security and defence, namely the implementation plan of the EU Global Strategy on security and defence, the European Defence Action Plan and EU-NATO cooperation.
EUROMIL believes Member States should aim for the highest level of ambition, namely a common Union defence policy with a strong social dimension. In this regard, EUROMIL supports the reference made to the need for developing a shared European military and strategic culture, fostered through joint education, training and exercises, a field in which the EU Institutions could play an active role.
As a member of the European Movement International, EUROMIL fully supports its Position Paper on the future of European Defence. As the paper mentions, "closer European defence integration will also require a harmonisation of European armed forces, facilitating cooperation among military personnel under the umbrella of a European Defence Union. In this process, the human rights and fundamental freedoms of civilian and military personal should be fully respected.  Attention should also be paid to the social dimension of personnel working in the defence sector, including the right of association and common standards for living and working conditions in EU-led missions. Common training and education should also be pursued, which could eventually result in the creation of a European Military Academy."