General Assembly of N-COACA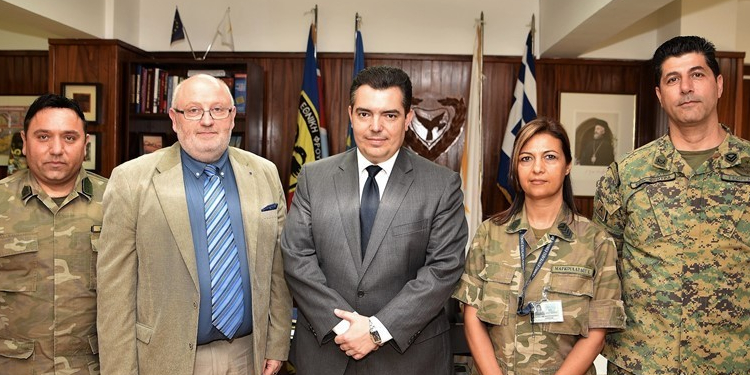 On 6 June 2017, the Non-Commissioned Officers Association of the Cyprus Army (N-COACA) organised its 9th General Assembly in Nicosia. N-COACA joined EUROMIL in 2010 and has ever since been a highly respected and trusted member.
Together with the Minister of Defence, Mr. Fokaides, the Chief of the National Guard, Lieutenant General Leontaris, and several members of parliament, EUROMIL's President, Emmanuel Jacob, participated at the General Assembly.
In Cyprus, servicemen and -women were granted the right of association nearly 30 years ago. However, many restrictions to this and other rights remain. "Although EUROMIL welcomes the positive efforts undertaken by the Cypriot political and military leadership to engage in a constructive dialogue with representatives of military associations, it believes that there is still room for improvement" President Jacob said.
EUROMIL particularly deplores the deadlock in the discussions on several prominent issues affecting personnel, particularly the non-implementation of the EU Working Time Directive. The lack of implementation of the EU Working Time Directive in the Cypriot armed forces does not comply with EU law and amounts to discrimination in comparison with the situation of other workers from the public sector and security personnel such as police and firefighters.
This issue has also been discussed in separate meetings that were held before the General Assembly in the offices of the Chief of the National Guard and the Minister of Defence. On both occasions EUROMIL's President highlighted that last April, the Commission reiterated in an interpretative communication on the Working Time Directive that the Working Time Directive is applicable to the armed forces and that the exclusion of workers – including military personnel – must be interpreted restrictively and take into account the nature of the tasks performed rather that than the sector of employment.
Lieutenant General Leontaris as well as Minister Fokaides motivated the non-implementation of the Working Time Directive explaining the particular situation of Cyprus facing the illegal occupation of a part of their country. "I fully understand that specific measures are required in certain circumstances, but this cannot lead to a blanket exemption of the directive for military personnel. Working in the best possible conditions also means being entitled to an appropriate working time regulation" President Jacob reacted.
However, Minister Fokaides concluded by making clear he was willing to re-open the discussion on the implementation of the Working Time Directive in the Cypriot armed forces. President Jacob reiterated EUROMIL's commitment to support Cyprus in this debate by sharing its expertise in this field.