News From Germany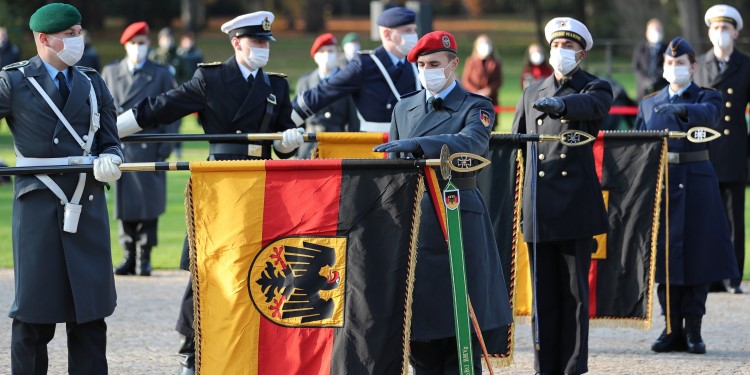 Cornerstones for the Bundeswehr of the Future
The document "Cornerstones for the Bundeswehr of the Future", presented in Berlin on Tuesday, May 18, by Federal Minister of Defence Annegret Kramp-Karrenbauer in the presence of Inspector General Eberhard Zorn and the inspectors of the Army, Air Force, Navy, Armed Forces Base and Medical Service, addresses the task of increasing the material and personnel readiness of the Bundeswehr while stringently separating the Bundeswehr's alliance obligations in the course of foreign deployments, which will continue to be managed by the Operations Command.
Das am Dienstag, den 18. Mai in Berlin von der Bundesministerin der Verteidigung Annegret Kramp-Karrenbauer und im Beisein des Generalinspekteurs Eberhard Zorn und der Inspekteure der Teilstreitkräfte Heer, Luftwaffe, Marine, Streitkräftebasis und Sanitätsdienst vorgestellte Dokument "Eckpunkte für die Bundeswehr der Zukunft" nimmt sich zur Aufgabe die materielle und personelle Einsatzbereitschaft der Bundeswehr zu erhöhen bei gleichzeitiger stringenter Trennung von Bündnisverpflichtungen der Bundeswehr in Zuge von Auslandseinsätzen, was weiterhin durch das Einsatzführungskommando geleitet werden soll. Das Dokument sieht die Neuaufstellung eines Territorialen Führungskommandos vor, das hauptsächlich mit der Landesverteidigung vertraut sein soll. Beide Kommandos sollen dem Generalinspekteur direkt unterstellt werden. Zukünftig sollen die Begriffe Dimensionen Land, See, Luft- und Weltraum, Cyber- und Informationsraum für die ehemaligen Teilstreitkräfte verwendet werden. Ferner sollen die beiden eigenständigen Teilstreitkräfte Streitkräftebasis und der Sanitätsdienst aufgelöst und in die Dimension integriert werden. Eine langfristige strategische Auslegung der Bundeswehr soll auch durch einen Nationalen Sicherheitsrat gewährleistet werden und soll unter Federführung und Würdigung der Richtlinienkompetenz des Bundeskanzleramts erfolgen. Ferner sollen die beiden eigenständigen Teilstreitkräfte Streitkräftebasis und der Sanitätsdienst aufgelöst und in die Dimension Land integriert werden. Die beiden Dienstsitze Bonn und Berlin sollen auch zukünftig bestehen bleiben.
Draft law on intensified extended security screening with security investigations of servicemen and women and security screening of reservists
On May 20, 2021, the German Bundestag passed (with the Left Party abstaining and the Afd Party voting against) the law on intensified extended security screening with security investigations of soldiers and security checks of reservists. In the future, soldiers and reservists in certain security-relevant assignments will be examined more closely than before by the Military Counterintelligence Service to determine whether the ideological statements they have made up to the security check are in line with the German Constitution.
Am 20.05.2021 hat der Deutsche Bundestag (bei Stimmenthaltung der Fraktion die Linke und den Gegenstimmen der Fraktion der Afd) das Gesetz zur intensivierten erweiterten Sicherheitsüberprüfung mit Sicherheitsermittlungen von Soldatinnen und Soldaten und Sicherheitsüberprüfungen von Reservistinnen und Reservisten beschlossen. Zukünftig sollen Soldatinnen und Soldaten sowie Reservistinnen und Reservisten in bestimmten sicherheitsrelevanten Verwendungen eingehender als bisher vom Militärischen Abschirmdienst dahingehend überprüft werden, ob ihre bis zur Sicherheitsüberprüfung gezeigten weltanschaulichen Äußerungen im Einklang stehen zum Grundgesetz. Auch soll damit geprüft werden, ob die Erlaubnis erteilt werden kann, an Kriegswaffen ausgebildet zu werden bzw. andere auszubilden. Dafür soll das Soldatengesetz (SG) erweitert und angepasst werden. Extremisten haben in der Bundeswehr keinen Platz. Um in Zukunft Betroffene noch besser überprüfen und einschätzen zu können, ist es wichtig, die gesetzlichen Voraussetzungen für intensivere Sicherheitsüberprüfungen zu schaffen – insbesondere auch im Bereich der Reserve.
#WeAgainstExtremism Campaign
What started as a private initiative of members of the Bundeswehr who wanted to set a sign against extremism in the German Armed forces became a mass social phenomenon also for diversity, tolerance, and democracy. With visible success: hundreds of active and former soldiers as well as civilian members of the Bundeswehr took part of it One of the initiators is Lieutenant Colonel (G.S.) Marcel Bohnert presented the campaign in a virtual panel on the EUROMIL Congress in May 2021. DBwV members continued to spread their sincere statement at the edge of the DBwV Regional Assemblies of the Southern, Eastern and Northern meetings.
Federal elections 2021 – Electoral campaigns
The Bundestag election campaign is gaining momentum shortly before the end of the legislative period and the summer break, as all parties represented in the Bundestag, apart from the CDU and the CSU, have presented a Bundestag election programme and positioned themselves in security and defence policy. Due to the ongoing Corona pandemic, it is still unclear to what extent the reform plans of the CDU around restructuring the Bundeswehr will find their way into a newly appointed federal cabinet, as budget cuts are also imminent in the policy area of security and defence policy.
For more information on any of the above you can contact DBwV here.
Photo: Bundeswehr/Sebastian Wilke