News From Denmark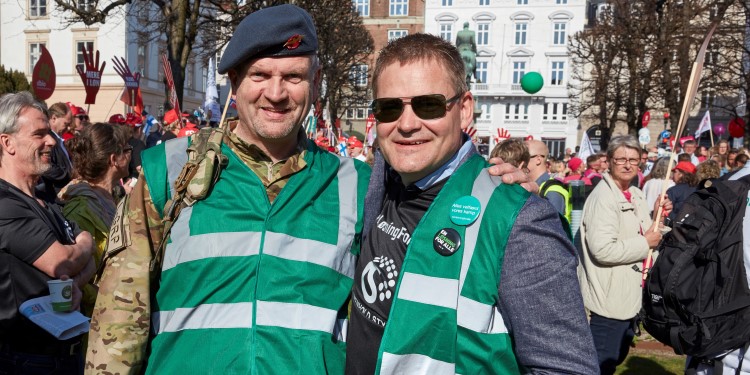 Photo: Chairman of the Central Association of Permanent Defence Personnel (CS), Denmark, Jesper K. Hansen (right) with a union representative during an demonstration in connection with the collective agreements negotiations in 2018. 
Uniforms
During a demonstration against Corona-related restrictions in two of Denmark's largest cities; Copenhagen and Aalborg, some of the demonstrators were wearing uniforms. It created great debate, not only internally in the Defense, but also among the population in general. Should soldiers be allowed to demonstrate in uniform or not? The legislation was not entirely clear.
According to the Danish constitution, soldiers can express their opinion in uniform when they do not demonstrate against the Defense, Danish defense policy or endanger the country's security. The Defense did not have a specific law against the use of the uniform to express the person's own opinion or attitude on a subject if he or she did not speak on behalf of the Defense, but only on their own behalf. This has also happened in other contexts, e.g. in connection with participation in the annual Pride parade that employees of the military shows up in uniform.
Based on the current case, the Defense management has now had new rules drawn up that apply to employees when they are not in active service. The provisions state that it will generally not be permitted to appear in uniform outside the service unless special permission has been given.
"CS will at all times work for the individual soldier's right to express his personal opinion and position and ensure freedom of expression. But CS does not find that the new rules violate freedom of expression. We therefore support the Chief of Defense's executive order", CS Chairman Jesper K. Hansen says.
CS Courses
Now that an increasing number of Danes have been vaccinated against Covid-19, and the number of infected is still declining, we are slowly returning to a normal everyday life with very few restrictions. It also means that we have resumed our own training of our union representatives. CS offers different courses of different duration but focuses especially on a five-day introductory course for new union representatives. Here we give the TRs a number of information and training in e.g. professional knowledge, important laws and circulars regarding working hours, pay conditions, working environment and negotiation techniques.
All of these courses have been canceled due to Covid-19, but now we have managed to start up again with the first intro course. CS's own consultants teach the courses. The representatives also learn about CS as both a professional organization and as a close partner, and what they as representatives can use their organization for.
Arctic
The Arctic Council has recently held a meeting in Iceland with the participation of representatives of the countries that have territorial boundaries in the Arctic, including Denmark, Russia, Canada and the USA. Prior to the Arctic Council meeting, US Secretary of State Blinken visited Denmark and Greenland, where the close cooperation between the United States, Denmark and the 'Commonwealth' (between Denmark, Greenland and the Faroe Islands) was further emphasized. Denmark monitors and asserts sovereignty over its part of the Arctic with both aircraft and ships, as well as specially trained soldiers (the Sirius Patrol).
Danish soldiers are also based on the Commonwealth's northernmost settlement Station Nord. The Arctic is of increasing interest due to the area's military strategic importance and not least the opportunity to exploit resources, including raw materials, minerals and fisheries. With global warming, the Arctic is constantly changing, with larger and larger ice areas melting and allowing traffic to emerge. Denmark's military interests in the Arctic are handled by the Arctic Command, which is based in Nuuk, the capitol of Greenland. There is a strong tradition of Denmark working closely with the USA on Arctic interests, and this close connection was emphasized during Blinken's visits both in Copenhagen and in Nuuk before the Arctic Council's major meeting in Iceland.
For more information on any of the above please contact CS Denmark.