MILEX-23: a First Step towards Greater European Defence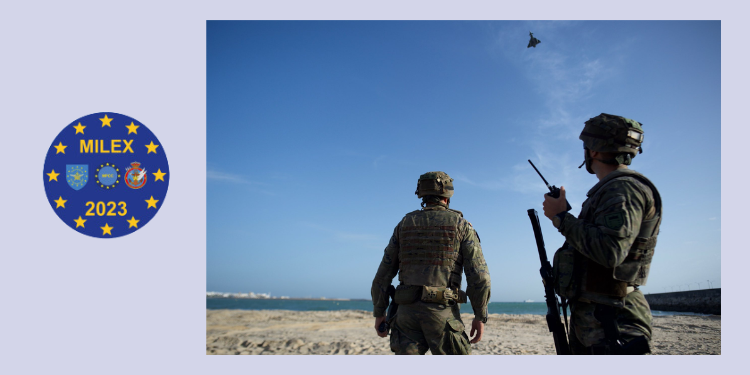 The first live exercise (LIVEX) of the Rapid Deployment Capacity (RDC) took place 16-22 October 2023, in Spain. Nine counties (Austria, Spain, France, Hungary, Ireland, Italy, Malta, Portugal and Romania) contributed with 2.800 military personnel, equipment, and strategic enablers. This exercise represents a historical moment of paramount importance with the aim to enhance EU's readiness to respond to crisis. It is also important to note that this is the first exercise that EU carries without leaning on NATO structures.
LIVEX represents the EU's need for common training and exercises of its personnel to test and validate concepts, procedures and tactics. Additionally, it's a significant step for the Military Planning and Conduct Capability (MPCC) to achieve full operational capacity by 2025. The MPCC is anticipated to become the EU's preferred command and control structure, including for the EU Rapid Deployment Capacity (EU RDC).
According to the HR/VP Josep Borrell, for the European Armed Forces to exercise together and build common capabilities it also mean enhancing readiness, boosting interoperability and thus the EU's ability to respond faster to crisis outside its territory. Hence, this is only the first of many common exercises; the next LIVEX is already planned for the second half of 2024 under the auspices of Germany. An important question that needs to be answered – if the EU wish for the EU RDC to be a success- is the one on funding. To elaborate more, MILEX-23 receives funding from the European Peace Facility (EPF) but that is a onetime solution, a permanent one needs to be found. The Council, both under the Spanish and the Belgian Presidency, should also focus on the budgetary aspects for European defence.
Overall, common exercises are developing robust capabilities, fostering interoperability among European Armed Forces and cultivate a common military culture, all which are necessary steps for moving forward with building a European Defence Union. However, the social and working rights of military personnel, the men and women who contribute to the success of these exercises, must not be overlooked. A better synchronisation and a set of minimum standards of the rights of military personnel is imperative to move towards stronger European defence structures!