Meeting with Swedish MEP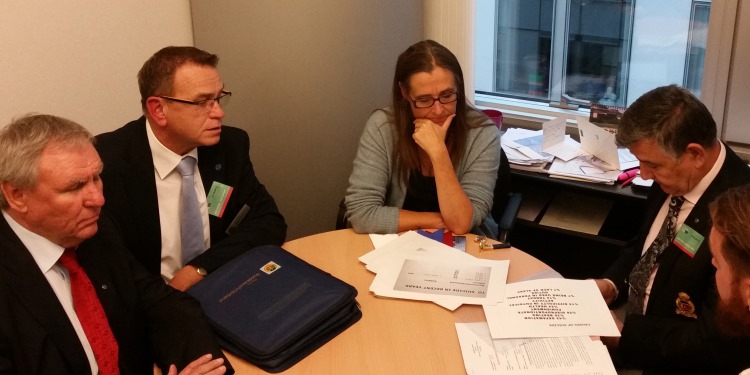 Abstract – Facilitated by Rudolf Schmelzer, a member of the German Armed Forces Association (DBwV), Ahmet Zengin, the President of the Turkish Military Union (TAS) met with Bodil Valero. Ms. Valero is a Swedish Member of the European Parliament, dealing with the EU relations with Turkey in her capacity as member of the AFET Committee.
The original text is available hereunder. For further information please contact DBwV.
Treffen mit schwedischer Europaabgeordneten
Eine gute Idee war das, dass wir uns zusammensetzen und die Probleme in der türkischen Armee als Gesprächsthema gewählt haben", so Bodil Valero, schwedische Europaabgeordnete. Sie ist Mitglied des Außenausschusses und ist dort für die grüne Fraktion für den jährlichen Bericht über die Türkei zuständig. Damit ist sie natürlich immer an einer Verbesserung des eigenen Lagebilds interessiert. Darüber hinaus ist sie Mitglied im Unterausschuss Verteidigung. Das Gespräch kam auf Initiative des stellvertretenden Landesvorsitzenden West, Oberstabsfeldwebel a.D. Rudolf Schmelzer, zustande. Ahmet Zengin, der Präsident des türkischen Soldatenverbands (TAS), zeigte sich erfreut, eine solche Gelegenheit wahrnehmen zu können. "Ich bin so dankbar, dass ich mit Frau Valero sprechen konnte", sagte Ahmed Zengin.
TAS hat seit 2014 den Status eines Beobachters bei EUROMIL. Seitdem schildert er die Zustände in der türkischen Armee und es wurde deutlich, dass Hilfe notwendig ist. "Das ist der Geist von EUROMIL, wir unterstützen Kameradinnen und Kameraden bei ihrer Arbeit für die sozialen Rahmenbedingen, unabhängig von politischen Differenzen, die Mitgliedsländer von EUROMIL vielleicht miteinander haben", beschrieb Charly Bög das Gespräch mit der Abgeordneten. Schmelzer: "Deshalb ist unsere Arbeit bei EUROMIL so wichtig!"
Bildzeile: Karl-Heinz Bög, Rudolf Schmelzer und Bodil Valero mit den Vertretern des türkischen Interessenverbands (v.l.)