EUROMIL Representatives Visited Ukraine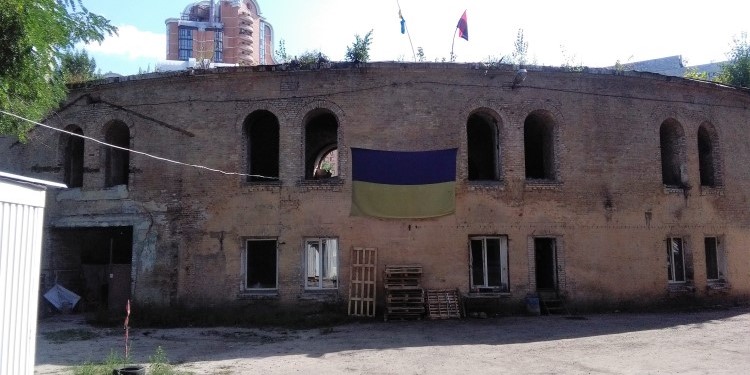 On 7 June 2016, EUROMIL, together with OSCE/ODIHR, organised a roundtable meeting in Riga (Latvia) on the role of military associations and unions in the Baltic countries and Eastern region. After a very long period without having had formal contact with Ukrainian representatives, this event was the ideal opportunity to strengthen ties again. It was agreed that a visit to Ukraine would be organised to offer the possibility of getting in closer contact with Ukrainian veteran associations and other representatives.
From 30 July to 2 August 2016, EUROMIL's President and Treasurer, Emmanuel Jacob and Ton de Zeeuw, visited Ukraine with a heavy and tiring agenda.
Arriving in Kiev on 30 July, they started their journey by visiting two teams of so-called "volunteers". These teams of volunteers support with their proper means and on a voluntary non-paid basis soldiers that are conducting the Anti-Terrorist Operation (ATO) at the Eastern frontline in the ATO zone. Even though the Ukrainian population is of the opinion that it is at war in the region, the government and international organisations such as the OSCE and UN officially name it an "Anti-Terrorist Operation". These teams of volunteers support soldiers with, among others, food, uniforms, equipment and also prepare and deliver weapons and armoured vehicles. For most of us it will be hard to understand that several of these volunteers even participate as armed fighters in the conflict. The EUROMIL delegation had talks with these volunteers and before leaving on 2 August, also discussed the situation of these "veterans" with the ombudsman office in Kiev. Under certain conditions, these volunteers can become regular soldiers and apply for the statute of veteran. It has been confirmed by the ombudsman that the situation of these people asks for the highest attention in order to ensure that everyone is treated in the right way.
In the next two days the delegation went to Chernivci and Vinnitsa to meet with several stakeholders. Meetings have been organised with, among others, the Deputy Mayor of Chernivci who passed himself nine months at the frontline starting as a volunteer and became a regular soldier afterwards. The City Council of his city meanwhile started organising support for the veterans returning back from the ATO zone and the families of those who were wounded or died during the operation. A similar meeting took place with the Vinnytsia Regional Governor and some politicians and representatives of governmental and non-governmental organisations. EUROMIL also visited the premises of these organisations for bilateral talks and visited a hospital specialised in veteran care which delivers as well physical as psychological care.
From all these meetings and several personal talks, a certain number of conclusions can be made. Firstly, Ukraine has a serious problem organising its society and especially the consequences of the conflict in the East in a well-coordinated way. Consequently, human, material as well as financial resources are lost or used in a duplicated way. Secondly, an even bigger challenge will be to give the proper psychological support to those who participated in one way or another in the frontline or nearby this line in the East. This does not only concern regular military troops, but also and more particularly volunteers who go for a short or longer period to the conflict zone as well as the population that is still living in the area. Once back from the conflict zone, their situation is very fragile and it will be of extreme importance for the whole Ukrainian society to deal with it.
It is impossible to explain the situation of Ukraine in details, neither in a few lines nor in hundreds of pages. The current situation is a combination of  history, long and recent history of Ukraine, culture, diverse population, political culture and last but not least a culture of corruption that rules the day-to-day business of its society. Nevertheless, Ukraine is a country with potential in all fields and it would be a shame not to deal with this country at the front door of the European Union.