EUROMIL Participated in the 2020 Transatlantic Security Jam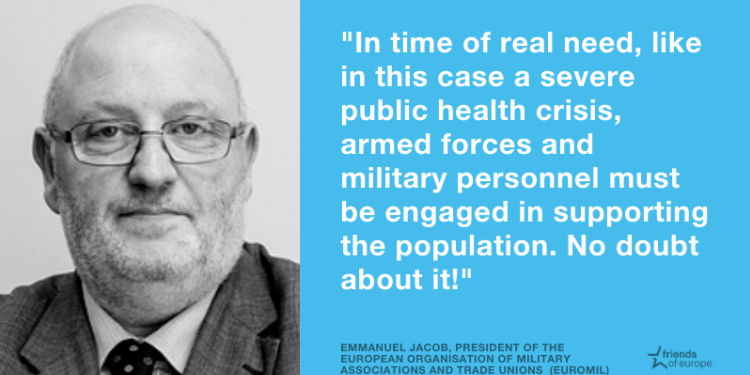 The "2020 Transatlantic Security Jam: securing the Post-COVID Future" took place online from 12 to 14 May 2020.
Experts from all over the world participated in this three-day written virtual brainstorm on international security challenges hosted by IBM and coordinated by The Partnership for Peace Consortium in collaboration with Friends of Europe and other think-tanks.
The Security Jam was divided into 6 discussion forums which ran in parallel. One of them was hosted by Friends of Europe, with the support of EUROMIL, on the topic of ''Cooperation and Autonomy: The global role of the EU post COVID-19''. The President of EUROMIL, Emmanuel Jacob, participated as VIP to this forum, where he addressed the impact of defence budgets on armed forces and their personnel (post)-COVID-19 and highlighted the need for leaders to find the right balance between security, health and economic considerations. EUROMIL Board Member, Johan ÖHLÉN, and PFEARFU Presidium Member, George Zgardanas, also actively took part in the forum.
EUROMIL emphasise that Europe can only become stronger in the world after the COVID-19 pandemic if proper investments are made in the defence sector. This also means investing in people because security has a social dimension!
The Security Jam 2020 top recommendations and its in-depth report will be distributed to leaders around the globe and is available here.