Cyprus: Cybersecurity, PESCO and Military Erasmus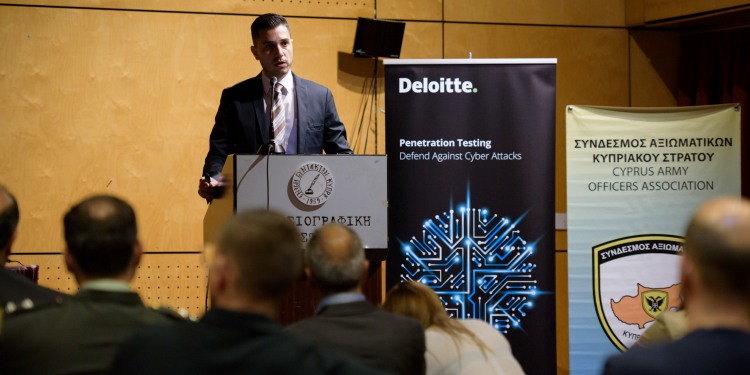 CYBERSECURITY AND PROTECTION OF CRITICAL INFRASTRUCTURES SEMINAR
The Cyprus Army Officers Association (CAOA) in cooperation with the global organization Deloitte, organized a "Cybersecurity and Protection of Critical Infrastructures" seminar at the 25th of October 2017 in Nicosia, as part of the events hosted by Deloitte for the European Month of Cybersecurity.  During this event the audience had the opportunity to hear from Deloitte's Risk Advisory specialized personnel a series of interesting presentations regarding Cyberwarfare, Protection of Critical Infrastructure, Protection from cyberattacks including attacks on SCADA systems and more.  The Minister of Defence Mr Fokaidis, the Chief of the General Staff of the Cypriot National Guard Lieutenant General Leontaris as well as parliament representatives and specialized personnel from various government sectors attended this event.
PESCO
The Minister of Defence Mr. Fokaides had a series of meetings in October including the Minister of Defence of Germany Dr Ursula von der Leyen and the Chief of the EUMS General Esa Pulkkinnen discussing inter alia the progress on the Permanent Structured Cooperation (PESCO).  It is expected that Cyprus, as a European logistic hub and due to its naval and airforce bases, will play a major role in this process. It will be supported by the European Council for further development of its military infrastructure, as Cyprus by now was an important security provider to the region.
MILITARY ERASMUS
In September 2017 a multinational exercise in cooperation with the European Security and Defense College (ESDC) started at the initiative of the Ministry of Defense, involving Austria, Greece, France and Romania. The exercise took place in Larnaca and is part of the Military Erasmus Initiative of the European Security and Defense College (ESDC) in cooperation with Theresian Military Academy of Austria.
The exercise aimed to create future leaders with the necessary skills and abilities to deal quickly and successfully with any situation they present during their mission. The exercise is another practical contribution by Cyprus to the promotion of the EU's Common Security and Defense Policy.
It is worth mentioning that the Ministry of Defense contributes to the promotion of the European Defense and Security College activities through the participation of an Officer at the College's Board of Directors.
DEFENCE EXPENDITURE
The visit by the Minister of Defence of the Republic of Cyprus to Israel was successfully completed. During the visit, it was confirmed that an offshore patrol vessel (OPV) was purchased by the Republic of Cyprus under a bilateral Agreement between Cyprus and Israel.
On Behalf of CAOA'S Board, Papadimitris Dimitris,  IR Representative
For more information, please contact CAOA.