Berlin Security Conference 2016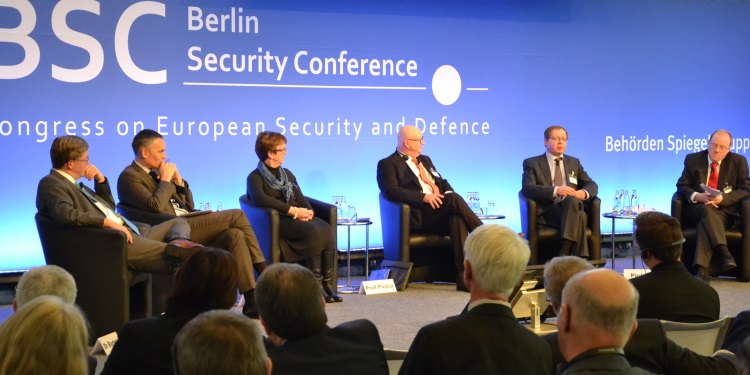 On 29 and 30 November 2016, the Berlin Security Conference and 15th Congress on European Security and Defence were organised by the Behörden Spiegel – Germany's leading independent newspaper for civil and military services. More than 1000 participants from the military, politics and industry came together to discuss the topic "Europe at risk – what are our answers to common threats?". EUROMIL was represented by its President Emmanuel Jacob and its Project Officer Rebekka Haffner.
During two days, a lot of interesting and high level speeches, panel discussions and interviews explored the changed security environment Europe finds itself in. Special attention was given to France, the partner country of the conference in 2016.
Opening the conference, Michael Roth, Minister of State for Europe and Commissioner for Franco-German cooperation at the Federal Foreign Office of Germany emphasized the need to respond to the manifold challenges together with reliable partners in the framework of the European Union. As no state can effectively deal with the current crises alone, the EU's ability to act needs to be increased significantly. The Secretary of State for European Affairs of the French Ministry of Foreign Affairs, Harlem Désir agreed with his German counterpart and highlighted the importance of the creation of a "real European defence semester".
During the conference, a wide range of issues related to the internal and external security of the European Union were discussed: the role of Frontex, European cooperation in the field of defence research and innovation as well as procurement, populism as an internal threat to the European Union, hybrid threats and cyber security, the new concept of framework nations.
Participants suggested different approaches towards more cooperation and coordination of defence matters in Europe such as using the existing framework of NATO, expanding the security and defence competences of the European Union or fostering bi- and multilateral cooperation between neighbouring countries. The underlying assumption shared by participants was however the need to use the momentum and respond to the multiple security challenges together.