21st Anniversary of the International Military Climbing to Kriváň (Slovakia)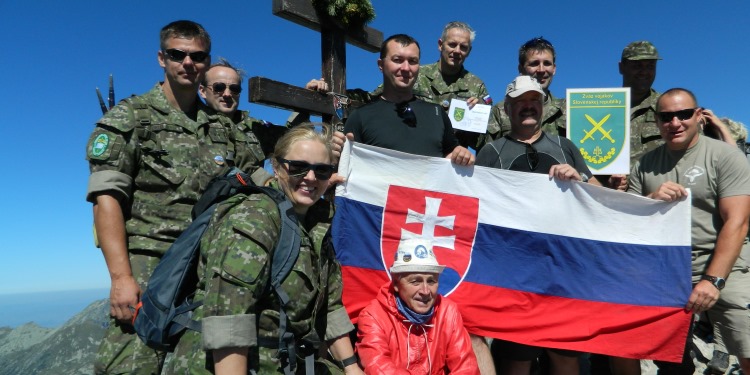 Abstract – On 27 August 2016, the 21st International Military Climbing to Kriváň was organised on the occasion of the 72nd anniversary of the Slovak National Uprising by the Association of the Soldiers of the Slovak Republic (ZVSR) in cooperation with the Chief of the General Staff of the Slovak armed forces. Amongst the participants were several hundred professional soldiers of the Slovak armed forces, soldiers from other countries of the Visegrad group, some representatives of other EUROMIL member associations, and more than thousand civilians.
The original text is available hereunder. For further information please contact ZVSR.
XXI. ročník medzinárodného vojenského výstupu na Kriváň
Kriváň, Tatranský štít  vysoký 2495 metrov nad morom pri 21 ročníku medzinárodného  vojenského výstupu sa  tento velikán  rozhodlo pokoriť 1654 účastníkov, čo bol rekordný počet.  Výstup organizoval Zväz vojakov SR v spolupráci s Ministerstvom obrany a Generálnym štábom Ozbrojených síl SR. Záštitu nad tohotoročným výstupom  prevzal osobne náčelník generálneho štábu OS SR generál Maxim. Zväz vojakov SR  organizoval  túto akciu pri príležitosti  175 výročia  vychádzky Štúrovcov na tento symbol Slovenska a 72 výročia SNP.
Slávnostného  otvorenia výstupu v hoteli Granit Tatranské Zruby sa zúčastnil  riaditeľ sekcie ľudských zdrojov MO SR plk. Radoslav Ivančík a prvý zástupca náčelníka generálneho štábu OS SR generálmajor Pavel Macko. Prítomní boli aj predstavitelia profesijných organizácií z Českej republiky, Poľska, Maďarskej republiky a Litvy. Pred samotným pochodom 27. augusta 2016 jednotlivé delegácie vojenských zväzov z krajín V-4  a predstaviteľ  MO a GŠ si uctili pamiatku partizánov kpt. Štefana Morávka a kpt. Jána Rašlu, ktorých zabili fašisti na úpätí Kriváňa  a sú pochovaní pri Štrbskom plese, položením vencov a príhovorom prezidenta Zväzu vojakov plk. v.v. Tomáša Šveca a predstaviteľov MO a OS.
V tomto ročníku oproti predchádzajúcim ročníkom  si prišlo výstupom na Kriváň  obe historické udalosti pripomenúť 253 profesionálnych vojakov Ozbrojených síl SR a vojenských klubov ZV SR z posádok, Levice, Rožňava, Trebišov, Trenčín, Topoľčany,   Prešov, Hlohovec, Martin, Rožňava, Zemianske Kostoľany, Poprad, Piešťany. Niektorí preukázali svoju maximálnu  fyzickú zdatnosť a štít zdolali za 2 hodiny oproti 4 hodinám nameraného turistického tempa. Výstupu na Kriváň sa zúčastnili aj vojaci z Čiech, Poľska, Maďarska a Litvy.
Výstup, ktorý je obtiažny absolvovali aj  prvý zástupca NGŠ OS SR generálmajor Pavel Macko a Ordinár Ozbrojených síl a ozbrojených zborov biskup František Rábek.
Jeden  vystupujúci občan si pri zostupe na chodníku zlomil nohu. 27 ročného občana nevojaka  transportoval vrtuľník záchrannej služby do nemocnice v Poprade.
Najmladší účastník mal 11. mesiacov a najstarší 74. rokov. Výstupu sa zúčastnili aj dvaja občania s telesným a zdravotným hendikepom za pomoci svojich najbližších, ale aj vojakov.
Pri ohni partizánskej vatry vo večerných hodinách prezident Zväzu vojakov  vyhodnotil úspešnosť 21. ročníka  vojenského výstupu na Kriváň. Poďakoval sa organizačnému štábu, osobitne  členom vrcholových družstiev a sponzorom za prípravu, organizáciu a priebeh celej akcie.