Salaries and Payments of Military Personnel in Spain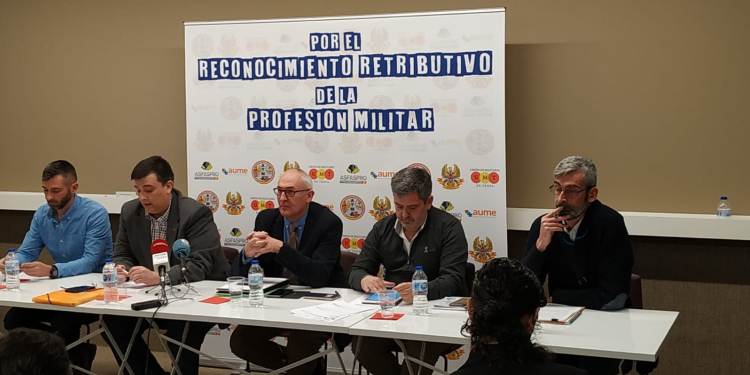 Abstract – Spanish military associations, including EUROMIL member associations ATME and AUME, have requested a specific meeting of the COPERFAS about the salaries and payments of military personnel.
The associations held a press conference in which the President of ATME insisted that it is necessary to update the salaries of military personnel: "We must put an end to the "mileuristas" (i.e. soldiers earning around 1000 Euro per month)". Public servants who use weapons valued in millions of euros, should be paid for the increase of their working hours or for their permanent availability.
Moreover AUME launched a campaign in order for all military personnel to personally send a complaint to the National Ombudsman regarding the loss of value of the salaries of the Spanish armed forces personnel in the last 10 years because of the cuts, lack of pay rise or compensation for overtime, exercises, etc.
The original press release of ATME is available hereunder. For more information, please contact ATME or AUME.
Madrid, 6 febrero de 2019
A las 12,00 de la mañana, representantes de todas las asociaciones profesionales militares presentes en el Consejo de Personal de las Fuerzas Armadas (ASFASPRO, AUME, ATME, AMTM y UMT) han participado en una rueda de prensa ante los medios de comunicación donde han expuesto las motivaciones de haber solicitado al citado Consejo de Personal la celebración de un pleno extraordinario sobre retribuciones. Pleno que resuelva, de una vez por todas, el problema de que los miles de hombres y mujeres que forman las Fuerzas Armadas sea el colectivo peor retribuido de los trabajadores públicos. Los militares han padecido, como el resto de la sociedad, las consecuencias de la gran crisis económica de la última década y a causa de la limitación impuesta a la capacidad de reclamar sus derechos han sido, ellos y sus familias, los grandes sacrificados.
Compromisos del anterior gobierno de realizar un estudio detallado de las retribuciones militares, para adecuarlas a otros colectivos que ya las están viendo satisfechas, tal es el caso de las FCSE, no pueden caer en el olvido porque se haya producido un cambio de gobierno.
Por todo ello, las asociaciones profesionales han exigido de manera urgente que el órgano de interlocución con el que cuentan los militares, que es el COPERFAS; celebre un pleno extraordinario para tratar este tema.
Palabras de Juan Carlos Tamame, presidente de ATME
Los militares de tropa y marinería llevamos hace ya años en una situación precaria.
Hoy, un soldado destinado en "El Goloso" o en la Legión no percibe mensualmente más de mil euros. Es decir, no llegamos a ser mileuristas. Estos compañeros hacen más de 2.700 horas al año, y la prueba de ello se la hemos traído hoy aquí, para que la puedan ver y contrastar.
Estos compañeros no perciben por guardias, maniobras, servicios, o por trabajos que van más allá de su horario habitual (continuadas), ni un céntimo suplementario. Somos los únicos servidores públicos, que no reciben nada por esas horas extraordinarias.
No puede ser que un conductor de carro de combate "leopardo", que cuesta 13 millones de euros, tenga un sueldo, en el mejor de los casos, de mil euros.
No puede ser que un soldado de la Unidad Militar de Emergencias, esos que vemos trabajando en medio de desastres naturales, salvando y protegiendo a nuestros conciudadanos o llevando alimentos y bebida caliente a los que se han quedado atrapados por la nieve, tengan a cambio unas retribuciones tan paupérrimas.
Eso sí, si tienes un hijo menor y tienes que solicitar una reducción de jornada te reducirán de tu nómina una media 150 € mensuales. Es decir que para deducir no hay problemas, pero para abonar las horas extraordinarias eso ya es cuestión aparte.
Parece ser, como nos ha dicho repetidamente nuestro ministerio de defensa, que trabajar más horas de las establecidas y tener una disponibilidad permanente para el servicio los 365 días al año, sin ninguna compensación económica, va intrínseco en el "ser" del militar.
Por último, no quiero ni puedo olvidarme de los compañeros que han abandonado las Fuerzas Armadas de manera obligada por haber cumplido 45 años. Que perciben una compensación económica no contributiva de 642 € mensuales que, si bien en un principio era equiparable al salario mínimo interprofesional, a día de hoy ha quedado en una cantidad irrisoria. No se les puede dar menos a los que tanto han dado.