Armed Forces and COVID-19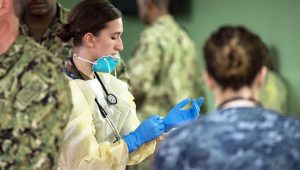 In the current months, EUROMIL observed that armed forces are being involved in fighting COVID-19. Indeed, they are carrying out an important role in supporting both healthy and infected citizens.
EUROMIL expresses its support to all the staff from essential services that is mobilised to support people in the fight against COVID-19, including military personnel.
In this respect, EUROMIL highlights the need for states to protect the health and safety of military personnel and reduce the exposure and transmission of COVID-19 to or from armed forces. Special attention should be dedicated to the mental health of members of the armed forces, who have been designated for carrying out unusual tasks without having a specific preparation. This may have an impact on their mental health during and especially after the accomplishment of their tasks.
Moreover, EUROMIL calls on states not use the present context to undermine or attack the human rights and fundamental freedoms of military personnel. In these challenging times, the right to freedom of association plays a central role in protecting the living and working conditions of armed forces members, such as social protection, remuneration, rest periods and working time arrangements. It is therefore of outmost importance to keep social dialogue ongoing, where it exists, and to pursue consultations with professional military associations and trade unions. Trade union rights must absolutely be respected and EUROMIL urges countries that started discussions on opening the right to freedom of association to military personnel to go forward in their projects.
Finally, EUROMIL calls on decision-makers to preserve defence spending targets, once the pandemic is over, and deliver on expectations in the defence sector. As HR/VP Josep Borrell highlighted on the occasion of the video conference of Defence Ministers on 6 April 2020 : "ongoing work in security and defence remains a clear priority, now perhaps more than ever. Because from now on, health becomes a security issue".
Country profiles
In this section, you will find more information about how armed forces are dealing with COVID-19 in European countries.
International organisations
Trade Unions and Civil Society Organisations