Trade Union Rights for Public Sector Workers: Joint Project Launch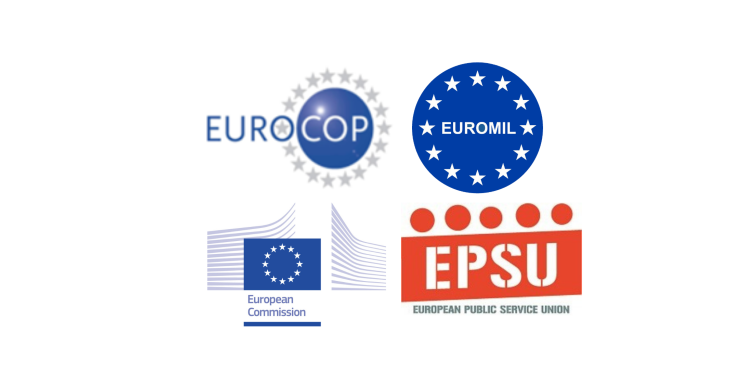 This joint project is kindly supported by the European Commission.
On 25 and 26 May 2021, EUROMIL participated in launching its joint project with EPSU and EuroCOP on 'Strengthening and Defending Trade Union Rights in the Public Sector.' The joint project intends to assess current legislative frameworks across the EU regarding trade union rights for public sector workers, including the military and police forces. Led by Alexander de Backer from University of Ghent, the research will analyse the context specific nature of policy and practice on this issue and will include a number of regional side meetings to span across 2021 and into 2022.
The launch conference kicked off with an overview of workers' rights in public services in Europe from Mr de Backer, followed by a presentation on the treatment of public service workers in European social directives from Adam Pokorny, Head of Unit at DG Employment. Both sessions gave a detailed and in depth analysis of the current situation regarding EU policy for public sector workers and trade unions and delved into the challenges arising out of the different approaches across member states.
Mr de Backer highlighted the issue over differing terminology and what exactly is meant by 'worker' and has instead decided to use the term 'official' during the research. Perhaps most interestingly for EUROMIL members, the point was made that although the main aim is to achieve collective bargaining rights for military personnel (in the case of EUROMIL and its members), it is the right to strike that will ensure workers can ever be fully at the negotiating table. EUROMIL President Emmanuel Jacob expressed frustrations, echoed by many, over the exclusion clauses within the regulations, with Mr Pokorny responding by pointing out that, at least within the Work Life Balance Directive, there is no allowance made for the exclusion of public sector workers. Nonetheless, while that may be so, participants rightfully highlighted the dangers to democracy where there are public servants who are prevented from accessing their full and fundamental rights.
The second and final day of the launch conference opened up the discussion to participants, having heard the overview of the current situation in Europe at the previous day's session. Beginning the conference, Nadja Salson of EPSU put forward the question as to the extent to which the EU sectoral social dialogue protects trade union rights or even helps to achieve new rights. It was a thought-provoking question to begin the day as Ms Salson highlighted the conflict between the theory – EU social dialogue can and should protect and achieve new trade union rights – and the reality – the existence of deep rooted, structural obstacles and dysfunctions across European legislative framework.
Again, the lack of an EU wide consensus on terminology was raised, specifically regarding the definition of social dialogue. The absolute importance of a European wide social dialogue network was underscored as it was suggested that this would help workers at national level but in order for the struggle to achieve these rights to progress, Ms Salson noted that it was equally necessary for social partners to assume responsibility over these issues and deal with the systemic issues that continue to persist.
Following Ms Salson's presentation, Carlos Carrion Crespo of the International Labour Organisation (ILO) presented the findings of an ILO survey on the right to organise in police services. This again gave an insight into the situation in context and the different perspectives on an international level. One particularly interesting point presented by Mr Carrion Crespo was the importance of recognising the historical context of the country being examined as a trend noticed within the survey findings was the similarities amongst former colonies. This point was also emphasised in the concluding panel session by Antoinette Cunningham from AGSI in Ireland, and Karin Brunzell from ST in Sweden and it was interesting to hear of the stark differences between Sweden and Ireland, further highlighted by EUROMIL Board Member, Gerard Guinan.
In addition, a pointed question from another EUROMIL Board Member, Antonio Lima Coehlo, to Ms Brunzell gave insight into the incredibly complicated nature of tackling the issue of trade union rights for public sector workers. Mr Coehlo remarked on the fact that in Sweden, where all workers can unionise with little to no restrictions, and whether this had in turn caused a different issue in which smaller, less established trade unions would be used by employers to establish unsatisfactory agreements, leaving the more established, 'bigger' trade unions in the unfortunate situation of reducing their own influence by being positioned in 'second place'. Ms Brunzell confirmed that this was indeed an issue faced by public sector workers in Sweden and gave warning for participants that going too far could also hinder achieving better conditions.
Perhaps most exciting in the final session was the very clear and direct statement made by panellist Philippe Lamberts MEP of the Greens/EFA, that in his view, the much discussed and lauded European Pillar of Social Rights is nonetheless inspired by neoliberal sentiments and that, in reality, we have not reached an ideological turning point that has been portrayed in the recent Porto Summit in May 2021. In this sense, EUROMIL members can be at least relieved to hear such a strong statement on the issue of trade union rights for public sector workers from a Member of the European Parliament.
Both sessions encouraged an extremely rich and thought-provoking discussion, with a wide range of experiences shared amongst participants and speakers alike. Furthermore, although this joint project sets out to deal with a difficult challenge, the invigorating discussion that has already come out of only the first two days is surely a positive sign of what is to come, and hopefully, it will have a positive and active impact on strengthening trade union rights across Europe for public sector workers.
See more on this from EPSU here.