Severe wildfires in Greece – contribution of the Armed Forces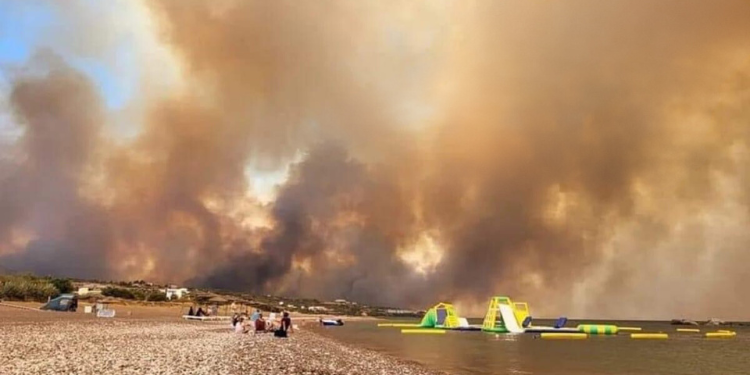 The situation in the Island of Rhodes has escalated beyond control, as tourists are now flooding the streets, seeking refuge in safe areas.  The army has been actively engaged in assisting both tourists and fellow citizens, guiding them away from the fire's path. To accommodate those who had to evacuate their homes and hotels to escape the flames in Rhodes, the Greek Army is in the process of establishing camps on the island. Among these camps is the one located in the Kalathos area of Rhodes, which belongs to the Special Forces Unit.
By order of the Chief of the Hellenic National Defense General Staff, General C. Floros, the following forces have been deployed:
– 1 CH-47 (CHINOOK)
– 3 CL-415 aircraft
– 2 firefighting vehicles
– 7 buses
– 8 speedboats
– 10 STAYER trucks
– 1 warship
– 4 engineer vehicles
– 2 dump trucks
– 2 towing vehicles
Additionally, 2 C-130s are available for the transportation of Police personnel and equipment, as well as for the fire Department in Rhodes.
Overall, the Greek Armed Forces have been assisting in combating the wildfires since July 17, when the fire in Kouvaras, Attica started. Since then, they have been deployed in various areas of the country that are facing extreme wildfires.
EUROMIL understand the need of immediate assistance in combating such environmental hazards and supports all the personnel, firefighters, police and military that are trying day and night to save countless people as well as our environment in Greece. But it should be noted that military personnel should receive proper training and equipment if they are to also assist in environmental hazards.