Promising New Struggles for the Greek Military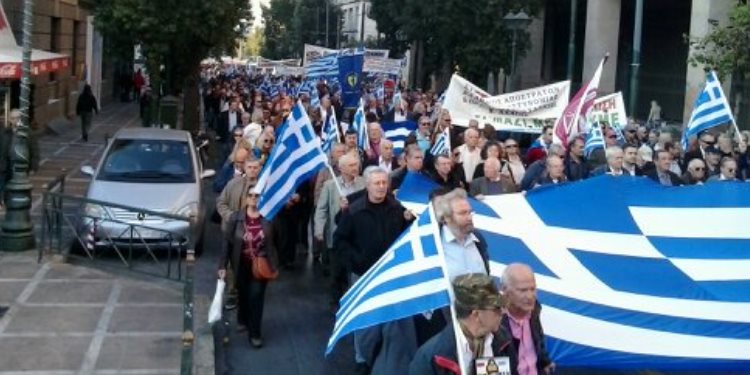 A peaceful demonstration of military and police forces, including retired personnel, took place on 20 November 2015 in Athens. The protesters marched towards the Ministry of Finance and the Greek parliament, where a resolution and demands were handed over.
"We gathered to protest massively and to express our rage and wrath against the poverty in which the Greek society has sunk. Our national independence is at stake. We want to resist the torturing policies, which bring the collapse of the defence and security of the country. These policies destroy social coherence, throw the military and police forces into poverty, mortgage the future of our children and of our motherland" – the resolution states.
The President of AN.E.A.E.D., retired Adm. Georgios Roidis, delivered a speech, in which he said: "Now is the time for critical decisions and actions. It is the time for struggle and upheavals. We owe it to us, our families, our children, to society as a whole and our homeland."
The demonstration was characterized by a high level of participation and  the combativeness of the protesters, which can be encountered in other rallies of social groups and unions frequently demonstrating against the ruthless, slavery-like and dangerous policies of the Greek government.
During the demonstration, a message of solidarity sent by EUROMIL was shared with the participants.
The demonstration was also supported by the active soldiers from PFAFU, headed by the Lt. Col. Anestis Tsoukarakis, who were massively represented, as well as delegations of veterans from the United States, Canadia and Australia.
The resolution was concluded as follows: "We appeal to the President of the Greek democracy, the Prime Minister and the leaders of all political parties to take on their historical responsibilities and necessary measures to repair the injustices against the military and police personnel and their combat effectiveness. The leaders of the country should ensure that the wretchedness of the Greek people will not go any further".