Leadership of the EUROMIL Delegation of the DBwV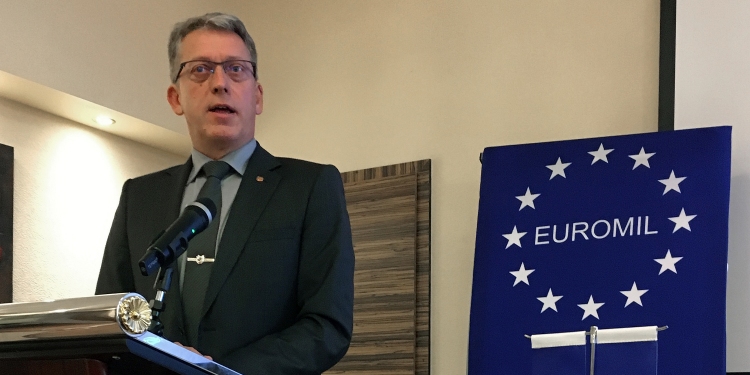 Abstract – In the future, the EUROMIL delegation of the DBwV will be led by Deputy Federal Chairman Captain Andreas Steinmetz. He will participate in the EUROMIL Presidium Meetings. As a member of the EUROMIL Presidium he represents the positions of the DBwV at the EUROMIL Presidium Meetings.
The original version of the article is available here under. For more information please contact the DBwV.
Mit Schwung ins neue Jahr
Die Delegation des BundeswehrVerbands wird bei den halbjährlichen Präsidiumssitzungen von EUROMIL künftig durch den stellvertretenden Bundesvorsitzenden Hauptmann Andreas Steinmetz geführt. Er vertritt als Präsidiumsmitglied die Positionen des DBwV auf den Treffen der europäischen Militärverbände.
Doch nicht nur personell geht es mit neuem Schwung in der Dachorganisation der europäischen Militärverbände weiter. EUROMIL hat noch im Februar mit dem Quaker Council for European Affairs eine Diskussionsveranstaltung ausgerichtet, die Antworten auf veränderte Herausforderungen in der Sicherheitspolitik sucht. Die Teilnehmer diskutierten die veränderte Rolle des Militärs sowie die Risiken der unschärfer werdenden Trennlinie zwischen Entwicklungszusammenarbeit, humanitärer Hilfe und zivil-militärischer Kooperation.
EUROMIL-Präsident Emmanuel Jacob trifft zudem den Koordinator des Italienischen Ombudsmanns in Brüssel, um über die Situation der Angehörigen der italienischen Streitkräfte zu sprechen. Im März finden sich auf Initiative von EUROMIL Abgeordnete des Europäischen Parlaments in einer Expertenrunde zum Thema "Verstärkte europäische Zusammenarbeit in der PTBS-Forschung" zusammen. Sie sprechen über das Problem der psychischen Erkrankungen als Folge von EU-Missionen, analysieren den gegenwärtigen Stand, zeigen Handlungsempfehlungen ("best practices") zur Einsatzvor- sowie nachsorge auf und machen sich für eine verstärkte europäische Zusammenarbeit auf diesem Feld stark.
Ende März richtet EUROMIL mit der ETUC (europäischer Gewerkschaftsbund) und dem ETUI (europäisches Gewerkschaftsinstitut) eine Veranstaltung zum Thema "Gewerkschaften im Militär" aus. Die Veranstaltung soll Brüsseler Vertreter anderer Gewerkschaften sowie Repräsentanten der europäischen Institutionen und Nichtregierungsorganisationen über wirkungsvolle Interessenvertretung informieren und rechtliche Probleme und Beschränkungen für die Militärverbände aufzeigen.