German Armed Forces 2020 plus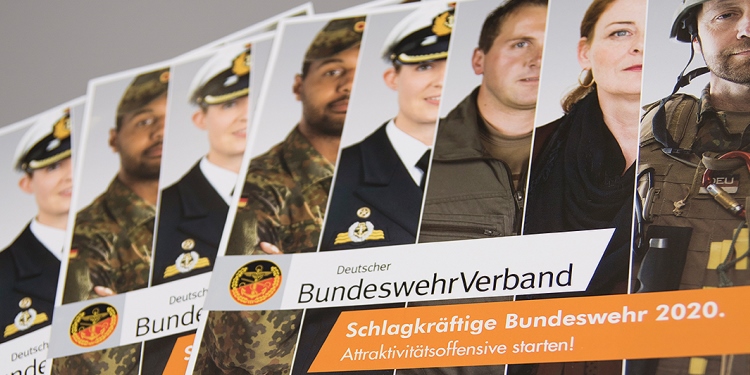 Abstract – In May 2014, the DBwV made a first step by publishing the paper "Powerful German Armed Forces 2020". Therein, the German Armed Forces Association described the ideal armed forces in 2020: staff, an attractive programme, better equipment and a higher defense budget where items on the agenda. Now it is time to take the second step: The brochure "German Armed Forces 2020 plus" goes beyond the first paper, it elaborates the achievements reached until now but also highlights what still needs to be done.
The original text is available hereunder. The brochure is available online. For further information please contact DBwV.
Attraktivität und kein Ende
Doch: Wir haben es ihnen aufgeschrieben. Keiner kann sagen, er hätte von nichts gewusst. Doch obwohl unsere Agenda "Schlagkräftige Bw2020″ überall nur Lob und Anerkennung fand, haben sie nicht alle gelesen – und verstanden. Da glauben ein paar Wolkenschieber im BMVg offenbar wirklich, dass die (sicherlich sehr guten) Ansätze von Attraktivitätsagenda und Artikelgesetz zentral für die Dienstzufriedenheit vor Ort sein könnten…
Wir haben von Anfang an aufgezeigt, dass es darauf ankommt, die hohlen personellen und materiellen Strukturen aufzufüllen. Dass die Verbesserung der maroden Infrastruktur – von der Ausbildungs- bis zur Unterkunftsinfrastruktur – elementar ist. Nur so kann der Dienst attraktiv gestaltet werden. So, wie es jetzt ist, kann es nicht bleiben. Piloten, die nicht fliegen können. Panzerkommandanten, die kaum je einen Panzer sehen. Mechaniker ohne Ersatzteile. Wie sich das in den sozialen Netzwerken auf die Nachwuchsgewinnung auswirkt, kann man sich leicht vorstellen.
"Im Ministerium und den Kommandos sind wohl nur noch Wolkenschieber unterwegs. Die merken überhaupt nicht, was die Truppe wirklich demotiviert", hieß es jüngst bei einer Spießtagung des Verbands. "Jeden Tag politische Bildung, lebenskundlicher Unterricht oder Sport sind nur bedingt ausfüllend. Selbst Schießen fällt schwer, da uns die Munition fehlt", sagte zuletzt ein Hauptfeldwebel einer technischen Einheit.
Den Frauen und Männern der Bundeswehr ist dabei klar, dass Attraktivität subjektiv ist. Und ein Maximum an individueller Attraktivität ist nur schwer zu erreichen. Dafür ist die Bundeswehr zu vielfältig und das Ziel der Einsatzbereitschaft lässt nicht alle Instrumente aus der zivilen Wirtschaft gleichermaßen in der Bundeswehr zu. Und dennoch gibt es keine Begründung, warum Soldaten oder zivile Beschäftigte in maroder Infrastruktur inklusive Mausefallen im Dienstzimmer leben müssen. "Das hat auch nichts mit einer einsatzorientierten Erhöhung von Robustheit zu tun. Sonst müssten wir uns in der Heimat noch ins Bein schießen, um uns schon mal an den Schmerz zu gewöhnen. Das ist doch absurd!", sagte ein Hauptmann eines Luftwaffengeschwaders.
Soweit wird es nicht kommen, versprochen. Denn der DBwV bleibt am Ball, auf allen drei klassischen Handlungsfeldern Material, Personal und Haushalt. Und weil manche Sachen offenbar lieber mehrfach erklärt werden sollten, kommt in Kürze unsere neue Agenda "Schlagkräftige Bundeswehr 2020 plus" heraus.