Freedom of Speech and Expression in the Armed Forces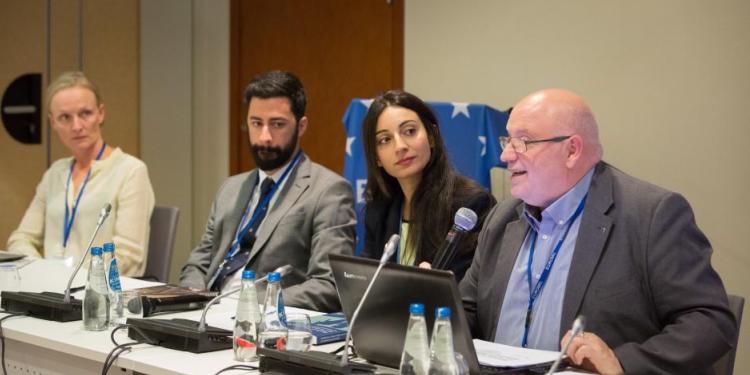 Experts and representatives of armed forces, defence ministries, military trade unions and professional associations from a range of OSCE participating States shared experiences and good practices in protecting armed forces' right to freedom of expression while ensuring operational effectiveness at an event held on 17 September 2018, on the margins of the Human Dimension Implementation Meeting.
Organized by the OSCE Office for Democratic Institutions and Human Rights (ODIHR) in co-operation with the European Organisation of Military Associations (EUROMIL), the event provided participants with the opportunity to discuss international standards and practices related to freedom of speech and expression in the armed forces and how this right is regulated in different states.
"Because freedom of speech is about self-expression, communication and interaction, the armed forces can benefit from its promotion as it can bring about improvements to morale and increase transparency within the institution," said Graziella Pavone, Human Rights Officer at ODIHR.
The event, a component of ODIHR's long-term engagement on the issue of the protection and promotion of human rights and fundamental freedoms in the armed forces, also focused on modern tools to promote freedom of expression and speech.
"New technologies facilitate and encourage the sharing of information and opinions for all citizens, including military personnel. Regulating this new situation in a way that respects human rights and fundamental freedoms, while at the same time preserving operational effectiveness and security, is a balancing act," stressed Emmanuel Jacob, EUROMIL President. "Today's event has clearly shown that military trade unions, professional associations and ombuds institutions can play an important role in finding the right balance."
Picture credit: OSCE/Piotr Markowski