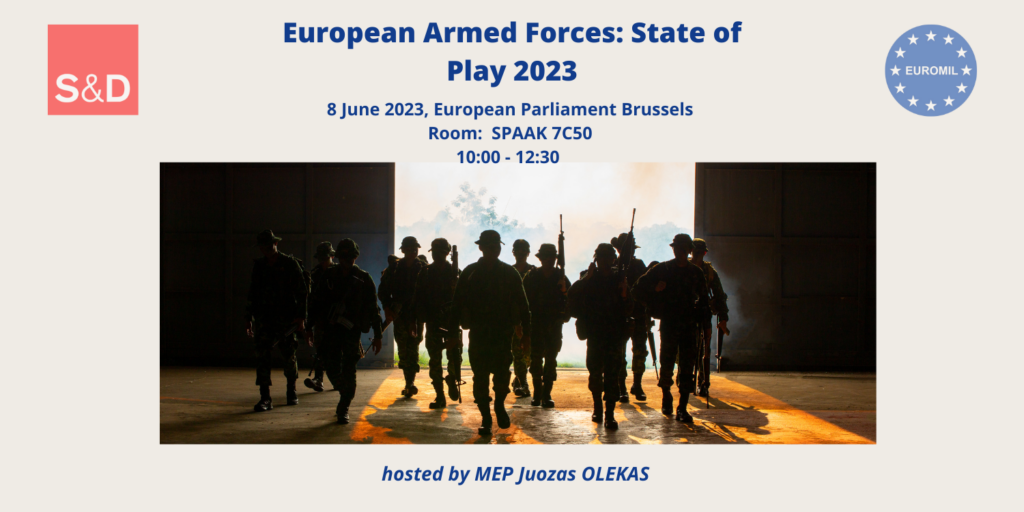 EUROMIL is co-organising with MEP Juozas OLEKAS an event in the European Parliament on 8 June 2023.
Today's geopolitical environment has dramatically changed: Russia's aggression against Ukraine, cyber threats, and climate change are jeopardizing international security and stability. European countries are increasing their defence spending to acquire more high-end capabilities and technological sovereignty. The EU and NATO through the Strategic Compass and the Strategic Concept are moving towards making the Euro-Atlantic area stronger, more secure and able to deal with current, emerging and future threats.
In this regard, the aim of the conference is to discuss the current issues that military personnel are facing in Europe and how European defence integration is moving forward. It has been more than a year since the Strategic Compass has been adopted and the Rapid Deployment Capacity (RDC) live exercises will start in autumn 2023. Hence, the main questions that the first panel is trying to answer are how the RDC functions, what the common exercises mean for military personnel, and what should be the future outcome of the RDC. To continue, the second panel discussion will focus on – an often under-discussed topic – the Reserve in the Armed Forces, and how they can contribute to the capabilities development and in dealing with emerging threats, as climate change.
---
Practical Details
Date: 8 June 2023
Time: 10:00-12:30 CEST
Venue: European Parliament Brussels, Room SPAAK 7C50
---
Concept Paper and Final Agenda
Registration is obligatory and the deadline to register is 01 June 2023.