EUROMIL held its 111th Presidium Meeting in Athens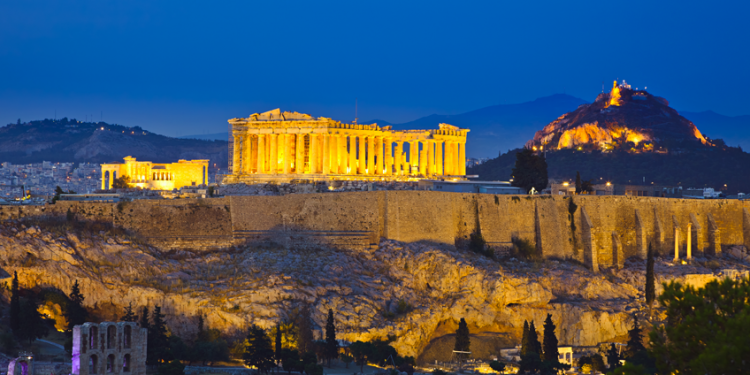 The 111th Presidium Meeting of EUROMIL took place on 17-18 April 2015 in Athens.
The Presidium, which meets twice a year, is composed of the Board of EUROMIL and one appointed delegate per member association. It approves the policy of the Board, provides impetus for the prospective further development of EUROMIL policy, decides on the accession of member associations and approves the budget.
Over 80 participants, representing 27 military unions and associations from 20 countries, as well as EUROMIL and keynote speakers, gathered to this year's spring meeting in Athens. They were welcomed by the President of EUROMIL, Emmanuel Jacob, and the two Presidents of the Greek EUROMIL member associations, namely Giorgos Roidis, President of AN.E.A.E.D., and Stergios Smirlis, President of ETAL. Moreover, the Presidium, during the welcoming session, listened to speeches delivered by the Vice Admiral (rtd) George Potamianos and the Lawyer George Antonacopoulos.
President Jacob recalled that progress has been made in Greece since the last Presidium Meeting that took place in Athens in 2006, but more still needs to be done. Indeed, military personnel were granted the right of association in 2012 but this right still needs to be fully implemented. Regarding the current crisis situation in Greece, he noted that a balance should be kept between the implementation of austerity measures and the necessity to ensure an adequate level of human rights' protection. At the European level, he welcomed the recent declaration of the President of the European Commission, Jean-Claude Juncker, who expressed himself in favour of a European army. In this respect, President Jacob called for a closer European defence cooperation, which should be linked to a relaunch of the SAFE ("Synchronised Armed Forces Europe") project. Finally, he emphasised the apolitical and non-religious nature of EUROMIL and the core element of the organisation, namely solidarity among soldiers, despite national and international discrepancies.
On behalf of its President, Giorgos Roidis, Filippos Tsirtsonis welcomed the participants in Athens and underlined the evolving security situation as well as the negative impact of the economic crisis in the country, leading to humanitarian, health, and welfare deteriorations. Being well aware that colleagues across Europe face similar problems, he called for EUROMIL member associations to coordinate their efforts, use their common experience and formulate proposals to address the situation. He concluded that unity, mutual respect and the principles conveyed by EUROMIL and AN.E.A.E.D. are the key to success.
President Smirlis recalled the history of ETAL within EUROMIL and the support it got from the organisation. He warned about religious fanaticism and praised for everyone to live in peace. Budgets spent in wars could be better spent in education. To conclude, he underscored that EUROMIL has an important role to play in the field of international peace and security.
George Potamianos, Vice Admiral (rtd) and member of AN.E.A.E.D. gave a short review on how his association reached its current status. He recalled that between 1967 and 1974, military discipline was carved through fear and punishment in an antidemocratic environment and explained that it was only in 2005 that young officers set up a "trade union" that covered the whole of Greece but in which only active service personnel could subscribe. Then AN.E.A.E.D. was founded by retired officers of the armed forces in 2010 to put an end to the deprivation of military personnel from their constitutional rights. He stressed that his association is ready to fight alongside EUROMIL, which promotes European social policy for military personnel. He stated that servicemen and -women need to strengthen their ties under EUROMIL and fight, not only for their own rights, but for the rights of everyone in Europe, with fraternity and honesty among themselves.
George Antonacopoulos, reported on recent developments in Greece with regard to armed forces personnel and human rights. He underlined that the Greek Constitution does not prohibit the establishment of military unions and the enjoyment of freedom of association by military personnel in general. It only forbids members of the armed forces to go on strike. Nevertheless, he explained that it was only in 2012 that the Greek Supreme Court judged that members of the armed forces should fully enjoy their right, when not in operation, to establish, join and participate in specific associations formed to protect their professional interest within the framework of democratic institutions, while performing their service duties. The interdiction of the right to strike remained applicable. Furthermore, he referred to the judgements of the European Court of Human Rights stipulating that a blanket ban on forming or joining a trade union within armed forces is contrary to article 11 of the European Convention on Human Rights. Finally, he underscored that in 2014, the Greek Council of State declared that the "principle of special wage treatment" of active military personnel stems through certain provisions of the constitution and should be taken into account when regulating the salaries of members of the armed forces. A limit to the successive wage reductions should thus be established. This decision, which results from a request submitted by recognized military unions, should be considered as a historic legal victory and as an indirect recognition of the utmost importance of the role of military unions in promoting their members' rights.
During the meeting, a third Greek military association became member of EUROMIL. The Presidium unanimously decided to grant P.F.A.F.U. an observer status for two years. EUROMIL is pleased to welcome this association under its umbrella.
Besides internal affairs, the assembly focused on topics including new geopolitical and security challenges for Europe. Dr. Georgios Filis, ISDA (Institute for Security & Defence Analysis), Adjunct Professor at the International Business & European Affairs Department, Associate Member of the Institute of Diplomacy & Global Affairs, and lecturer in the DEREE College (The American College of Greece), gave a presentation entitled "EU Confronting New (?) Geopolitical & Security Challenges: Welcome to a Brave Neo-Medieval World". He started by referring to a saying from Halford Mackinder "Who rules East Europe commands the Heartland; who rules the Heartland commands the World-Island; who rules the World-Island controls the world". He asserted further statements about the transformations covering EU's Near Abroad, a geopolitical system which covers EU's neighboring policy (Eastern & Southern), involves three major geopolitical (f)actors – Russia, Turkey, Islamic Sectarian Friction, and undergoes a fundamental restructuring in all the main pillars of power (defence-security, economic, political and cultural). The above-mentioned transformations, he stated, result in an increased level of challenges and threats for the EU, which has to respond to different kinds of armed conflicts, issues related to energy policy and human trafficking as well as relationship with other political systems and identities. Additionally, the EU will need to solve its existential issue of internal legitimacy deficit.
The Presidium concluded with three workshop sessions which aimed at exchanging experience and best practices on three important topics for EUROMIL member associations, namely social regulations in missions abroad, proceedings at the European Court of Human Rights and implementation of the Safety and Health Framework Directive in the armed forces. The EUROMIL Office may be contacted for any question related to these issues.
Pictures are available here.