The Fair Defence Pay Campaign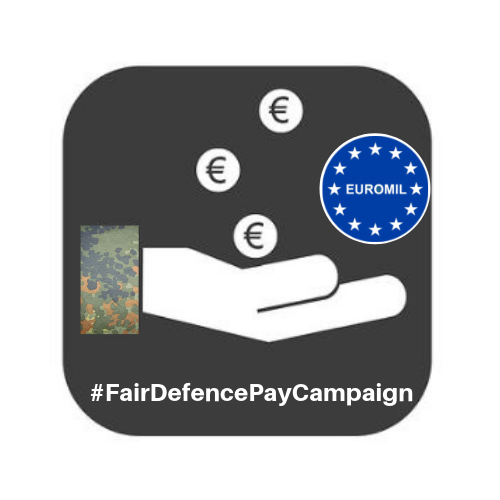 About the campaign
EUROMIL observed in recent years, but most notably in the first half 2019 that military personnel's salaries and allowances, linked to working conditions and problems with recruitment and retention are high on the agenda of almost all its members.
The continued decreasing of defence budgets in recent years has affected military salaries and allowances in a negative way in many countries. Military personnel all over Europe had to learn that their salaries and allowances had either been frozen or even decreased. In addition, due to a lack of available funds, equipment and working conditions in many European militaries deteriorated.
It is only in the past months that governments started to increase defence budgets and thus lifted the freezing of salaries and allowances.
Knowing that an increase in defence budgets alone does not necessarily mean an increase of salaries and allowances of military personnel, EUROMIL decided to launch a campaign, using the momentum of slight increases in defence budgets to demand investment in military personnel and raise awareness about the current situation.
During the campaign, EUROMIL will advocate for military personnel to receive at least a salary which is comparable to the levels of payments in public services. Acknowledging, that different levels of salaries are existing throughout European states, EUROMIL calls for the salaries of military personnel in every European state to be at least equal to the salaries of public sector workers in comparable positions and sectors in the same European state.
Furthermore, EUROMIL believes that poor payment is a major challenge for the recruitment of new armed forces personnel. In increasing the salaries, the attractiveness of the military career could be increased, more personnel could be recruited and with less open vacancies the workload could be shared more equally, thus making the armed forces and interesting employer.
Country profiles
It is not easy to compare salaries throughout European countries for several reasons. The standards of living differ in the different European countries, the tax systems are different and the rationale how military promotions work, and salaries are raised differ. With the figures below, we try to give an indication of what the situation is like, but the reader needs to take the difficulties mentioned above into account.
Video
Download
Click here to download the campaign logo.